Long Beach Temple Lofts — 835 Locust Avenue
A Portal to the City's Swankiest Style
The year was 1927, and Prohibition was in full swing; Charles Lindbergh made the first solo, non-stop, trans-Atlantic flight from New York to Paris; Ford Motor Company unveiled the new Model A; and Warner Bros. released Al Jolson's "The Jazz Singer," heralding the end of the silent film era.
Long Beach, California, was prospering. The port of Long Beach had just achieved deep water port status, oil was pumping from the area's rich oil fields, and the Ford Motor Company began construction on a factory to build those cutting-edge Model As.
Amid the raucous activity and progress of the period, architects Parker O. Wright and Francis H. Gentry constructed a grand Masonic Temple at 835 Locust Street in Long Beach. This monumental structure of Greek Revival architectural style became the headquarters for the York Rite, the members of which included many of the city's most elite citizens. The building's classical temple facade asserted dominion over the emerging metropolis, invoking a similar awe as the order's beau monde constituents. In its original form, the building contained a theater and several meeting halls, each themed and ornamented in one of the exotic revival motifs that were popular during the art deco era.
The edifice remains today as a symbol of the city's unique heritage of culture and style. Now Long Beach Temple Lofts, this posh address is home to a new generation of trendsetters who are drawn to the eclectic beat of downtown. The original structure serves as a stunning lobby where tile floors, classical pillars, coffered ceilings and period chandeliers have been faithfully restored to their original grandeur. Beyond are two new residence towers with central common areas featuring deluxe barbecues, a fitness center, spa, entertainment room and community herb garden. Modern living is further enhanced by underground parking and individual storage cages.
Marley in her very own Temple Loft, Unit 519.
This 1,785 sq. ft. loft was listed and sold by The Whipple Group.
The spacious loft units range from 1,000 to 2,970 square feet and are built in single and dual-level designs, offering a variety of lifestyles and price points. They personify industrial urban chic, with exposed brickwork, ductwork, conduits and sealed concrete floors, offset by immense windows and personal balconies that welcome sunlight and offer spectacular views of the town and harbor. For those who like to define their own parameters, this is indy living at its finest, with flexible floor plans that can be reconfigured to suit new furnishings or artistic inspiration.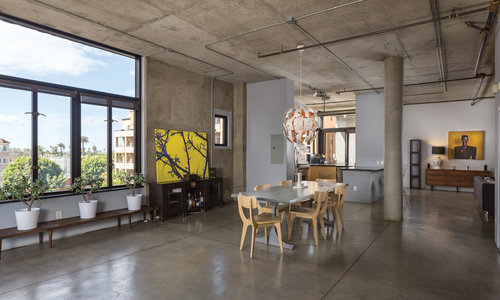 Modern design meets vintage style here, with amenities thoughtfully curated to deliver contemporary luxury. Pluck herbs from the resident-maintained garden and prepare unforgettable meals in a kitchen equipped with a Viking® five-burner gas range and convection oven with professional-grade range hood, stainless steel double basin sinks and sleek granite countertops. Enjoy the comfort and convenience of luxurious bathrooms, interior laundry centers, and central heating and air conditioning. Tech and energy-saving features are also built in.
Located on Locust Avenue between East Eighth and East Ninth streets, Temple Lofts is ideally poised near the epicenter of downtown, where dining, arts, entertainment and nightlife are always ready to order. The locality offers a completely walkable lifestyle for those who wish to shop, work and play in the downtown area or utilize public transit.
Architects Wright and Gentry were prolific contributors to the Long Beach cityscape, and their designs include other monumental structures along with numerous school buildings, homes and businesses. But none is so distinctive as the building we know today as Long Beach Temple Lofts, where the past is artfully juxtaposed with the present. The epic roar of the 1920s still echos through its swanky hallways and porticos, inviting residents of the new age to experience its timeless flair.