The Queen Mary — Great Lady of the Sea
RMS Queen Mary
Great Lady of the Sea
By H. K. Wilson, Illustration by Jamie Tablason
RMS Queen Mary and her sister ship, RMS Queen Elizabeth, were built by John Brown & Company for the Cunard-White Star Line. These exquisite superliners provided weekly express service between Southampton, Cherbourg and New York, offering elite travelers accommodations equal to the luxury hotels of Europe. Queen Mary's maiden voyage commenced 27 May 1936 from Southampton under the command of Sir Edgar Britten, beginning a journey that would take her nearly 4 million miles before finally coming to rest in her new home city of Long Beach.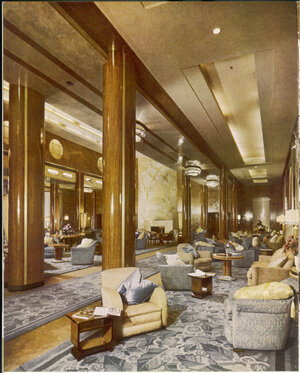 Queen Mary made her debut during the heyday of grand ocean vessels, when travel by sea was a glamorous affair. As passengers embarked the enormous ship, they were greeted by smartly uniformed personnel that would see to their every need during the transatlantic crossing. Guests enjoyed fine cuisine and spirits amid the ship's numerous dining rooms, lounges and cocktail bars. Entertainment of all varieties could be found in the grand ballroom, two swimming pools, paddle tennis courts and libraries. The ship also boasted beauty salons, a music studio, lecture hall, dog kennels, prayer rooms and connectivity to anywhere in the world via telephone. If you're wondering about the price of luxury, berths on Queen Mary cost as much as £80 per passage, equivalent to approximately £3,700 or $5,057 today.
This Art Deco marvel features more than 50 different types of wood representing each of the British protectorates of the day — including six species that are now extinct — earning her the nickname "Ship of Woods." Fireplaces could not be lit for fear of causing a conflagration. Intricate carving, marquetry and decorative murals are found throughout. Accented with enamel, etched glass, marble and metal, the resulting aesthetic is sleek and modern, while architectural details like columns and high ceilings add to the ship's grandeur.
Queen Mary was a paragon of haute design, showcasing the streamlined curves, geometric forms and stylized images that typify Art Deco. Exclusive artworks were commissioned from leading lights of the Art Deco movement, including Doris Zinkeisen, whose mythology and nature-themed murals are among the most famous aboard ship. Travelers marveled at a giant map of the Atlantic located in the cabin-class (first-class) dining room. It featured a motorized, crystal model of the ship that moved on twin tracks designating the ship's summer/autumn and winter/spring routes.
Queen Mary's passenger manifest reads like a who's who from both sides of the Atlantic. She carried the Queen Mother, the Duke and Duchess of Windsor, Laurel and Hardy, and Winston Churchill (six times). Churchill is purported to have planned the D-Day landings in the bathtub of his Queen Mary suite. Passengers of the Hollywood glitterati included such notables as The Queen of Hollywood herself, Elizabeth Taylor, who often traveled aboard ship with her two poodles.
During WWII, Queen Mary was stripped and painted camouflage grey, and she subsequently served the Crown transporting troops and prisoners of war. Built for speed, she was able to outpace enemy U-boats, earning her yet another monicker, "Grey Ghost." She still retains the record for carrying the greatest number of persons on a single vessel: 16,683.

Following the war, Queen Mary was refitted, and she returned to passenger service in 1947. But her best days were behind her. With the first transatlantic flight by jet aircraft in 1958, a new era of travel began. Passengers could travel distances in mere hours that used to take days. The Cunard fleet was operating at a loss by 1965, prompting the company to sell off its assets, Queen Mary among them. She was saved from the scrapyard by a bid of $3.45 million from the City of Long Beach. She completed her 1,000th and last crossing of the North Atlantic, arriving at her new home on 9 December 1967. Since, she has been permanently moored as a museum, hotel, event facility and piece of living history.
Over the years, Queen Mary has undergone many renovations. Once she was deemed a building, most of her propellers were removed, along with her funnels, which were replaced with replicas.
She was placed on the National Register of Historic Places in 1993 and joined the Historic Hotels of America in 2012. The Queen Mary Hotel is currently closed due to COVID-19 but remains open to sightseers for general admission and guided tours.
Many have compared Queen Mary with her predecessor, Titanic, also built by White Star Line, which merged with Cunard Line in 1934 to form the Cunard-White Star Line. For Titanic buffs, visiting Queen Mary is a thrill, since she makes it easy to imagine the lost liner's splendor. Launched in 1912, Titanic was the largest and most advanced ship of her day. Built a generation later, Queen Mary is 15 percent longer and 28 percent wider than Titanic. And due to improvements in shipbuilding, Queen Mary could travel 39 percent faster than Titanic.
Ghost sightings are another novelty that draws adventurers to Queen Mary. In 2008, Time magazine listed Queen Mary among its "Top 10 Haunted Places." It is believed that numerous prisoners of war died on the lower decks, and their ghosts roam the halls in company with those of prior guests and crew. The empty pool is said to be frequented by the ghost a little girl. Room B340, now empty, is purported to house a truculent poltergeist.
Having carried more than 2 million passengers and survived the perils of sea and war, Queen Mary is a beloved icon in Long Beach, where she retains her majesty as a great lady of the sea.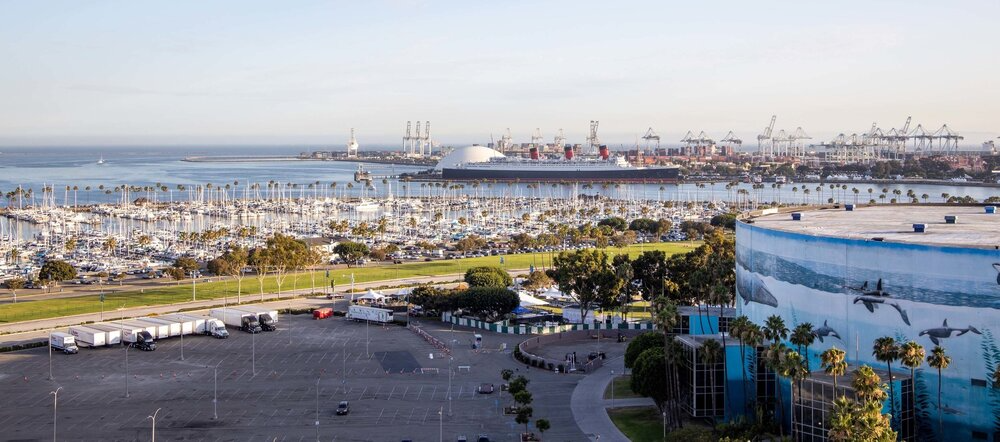 View of the Queen Mary from the Aqua Towers on Ocean Boulevard.