South Bay Landmark: Vincent Thomas Bridge
VINCENT THOMAS BRIDGE
By Lindsey Goodrow
The Vincent Thomas Bridge opened its lanes to an awe-inspired public back in 1963, making it 59 years old today. The need for a safe and efficient crossing over the main channel of the Los Angeles Harbor was the vision and years-long project of Vincent Thomas, a former California Assemblyman of San Pedro. Today, the glimmering emerald bridge is as notable a landmark in San Pedro as it was when it first opened.
SPECS
The overall length of the Vincent Bridge is 6,050 feet, which is about 1.15 miles long. The road of the bridge reaches a height of 185 feet while the towers reach 365 feet into the sky, or 35 stories if you can wrap your head around that. If you're ever taking a boat to Catalina from San Pedro, you'll be able peer up at this magnificent green bridge, the astounding height of which might actually make you dizzy.
Constructed with 92,000 tons of Portland cement, 13,000 tons of lightweight concrete, 14,100 tons of steel and 1,270 tons of suspension cable, it is designed to withstand winds of 90 miles per hour, and easily let's more that 32,000 vehicles and trucks drive on it each and every day.
HISTORY
Terminal Island
Prior to its construction, the only way to get from San Pedro to Terminal Island was by ferry. In the 1870s, passengers were actually transported by a small rowboat. By 1941, a ferry service was established and ran until the day the Vincent Thomas Bridge AKA "San Pedro's Golden Gate" opened.
Terminal Island is a popular destination but not for people. You wouldn't know how remarkable and rich it is just by looking at it or driving through it. Many vehicles pass through the island to get from San Pedro to Long Beach, or vice versa. But this man-made island is most importantly used to host shipping container terminals, canneries, shipyards, Coast Guard facilities, and a federal correctional institution. In order to connect the harbor to the freeways, plans for more than just a little ferry boat began to develop. There was briefly some talk and some proposals to build a tube tunnel. However, it was decided by a local assemblyman that a four-lane bridge should be built, even though it would cost a little more money than the city wanted.
Illustration by Jamie Tablason
VINCENT THOMAS
California legislature passed special legislation to name the bridge after Vincent Thomas, Vincent Thomas, a California Assemblyman that had been representing the City of San Pedro and surrounding area since 1940. Before the bridge was drawn up, Thomas had supported over sixteen pieces of legislation that were in favor of the bridge being built. Thomas would end up being the longest serving member of the Assembly — serving 19 terms for a total of 38 years. He ended his last term in 1978.
Vincent Thomas was so proud of his plans and dreams of a bridge connecting the city to the harbor that he was very first person to pay the toll (this toll, which hovered between .25 - .50 cents for a number of years has since been terminated, as the bridge is now "paid off").
ANOTHER NOTABLE BRIDGE
Vincent Thomas Bridge is the distinctive, emerald green suspension bridge that connects the city of San Pedro to Terminal Island. This bedazzling bridge is not to be confused with the Gerald Desmond Bridge, which connected Long Beach to Terminal Island and was recently replaced by a larger, more modern, cable-stayed bridge called the Long Beach International Gateway.
PAINT DRAMA
In 1983, the Vincent Thomas Bridge was repainted with a different paint in compliance with new environmental regulations. This new paint color made the landmark bridge dull and ordinary, as it was the color of all other unremarkable bridges around the country. No longer sparkling emerald green, the Vincent Thomas Bridge appeared dull for a number of years. In 2000, however, the bridge returned to it's original green glow, all thanks to Caltrans chemist.
This special new paint costs $25 a gallon. For typical upkeep, bridge painting crews will use about 45,000 gallons of paint over the course of ten years; which means the total cost of paint alone will be exceptional. But that's a small price to pay to restore a landmark.
LIGHTING
Before 2005, nightime visibility on the bridge was abysmal. Thanks to more than a decade of campaigning and fundraising, blue solar-powered LED lights were installed, lighting the glorious bridge up to a spectacular sight. These 160 lights operate from dusk until midnight to reduce potential harm and distress to local wildlife.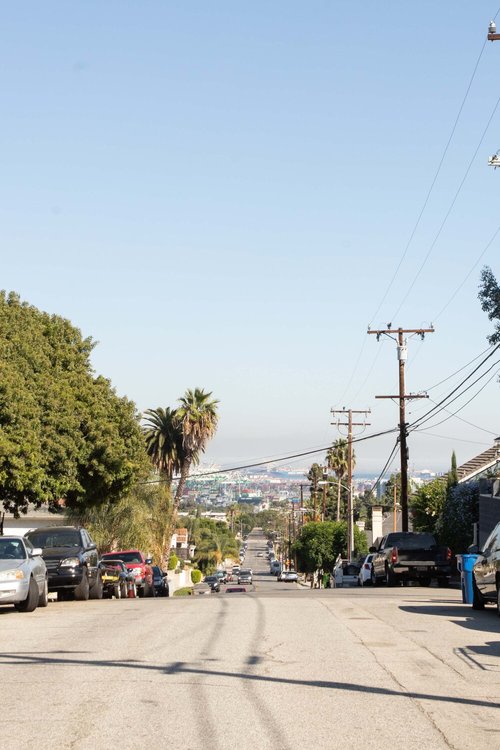 Today, the Vincent Thomas Bridge sparkles green glittery light across the harbor. Whether you're driving from Long Beach or San Pedro, this bridge remains an incredible sight and feat of architecture to behold.