Ambitious Ales Offers Locals a New Point of Brew
Seven years ago five guys had a vision.
Bixby Knolls beer drinkers are sure happy that they did.
Five guys had a vision. Their vision was to create an experience around craft beer that is unlike anything else. That vision included the idea of a neighborhood brew pub as a place where all kinds of people could come together and get to know their neighbors. In 2019, in the burgeoning Long Beach enclave of Bixby Knolls, the five friends — Garrett Carroll, Juan Carrillo, Jon Cuthbert, Jerome De Leon and Danny Karpinksi — finally brought their vision to life with the opening of Ambitious Ales. Co-owner and Head Brewer Garrett Carroll says the name conveys who they are as a company. "At our core, we are all extremely ambitious. From day one to now, from the types of beer we make, to the way we operate, to the fact that we opened the business with our own money and did the work on the building ourselves, we've shown that we look at everything in a big way. But at the same time, we like to keep things simple. It seem like a contradiction, but there's a bigger meaning. We're aiming for something larger than just our brand and our beer. We want to serve challenging beers, but make the experience inviting for people who are willing to try new things."

After experimenting with home brew and hitting on some unique flavors that became favorites with family and friends, the crew decided to turn their hobby into an enterprise. They began the (dare I say it?) ambitious tasks of engineering commercial grade brew systems, assembling funds, licensing and choosing the perfect locale. After scouring the region for the right venue, these fab five set their sights on Long Beach, where Jon Cuthbert had already been a resident for two years. "We spent a lot of time here already, so it made sense for us," Garret said.
"We fell in love with Bixby Knolls and everything that's happening here. We began talking to people who own businesses in the area, and it spoke true to what we we're all about. Community is what drives us."
They acquired a local landmark, the former home of Tuttle Cameras, which had occupied the location for 70 years. Garrett explained, "The building is so unique. It was built in the 40s and has a lot of character. When we first saw it, it was pretty dilapidated, but once we started investigating, we saw its potential."
Jon put his contracting skills to work and took the lead on redesigning the building to the team's specifications. The result is a beautiful open-plan tasting room with exposed wood rafters and uncluttered lines. The generous use of natural finishes grounds the space with an earthy vibe, while huge windows let indoor occupants remain connected with the outdoors.

Most importantly, a series of taps behind the bar deliver Ambitious Ales' selection of cold and delicious microbrews. From their exotic Fleurs Belgian table beer brewed with chamomile, lavender and fresh strawberries, to their surprising Central Perk blonde brewed with Rose Park Roaster's Guatemala Santa Isabel beans and Madagascar vanilla beans, you are sure to feel both challenged and chillaxed. In the spirit of inclusion, the Ambitious Ales quintet also decided to perfect their own Sarsaparilla Cold Pop and Cold Brew Coffee so underage youngsters, non-drinkers and DDs can hang out and enjoy the space too. "We get a lot of people who aren't big beer drinkers coming back for more," Garrett said.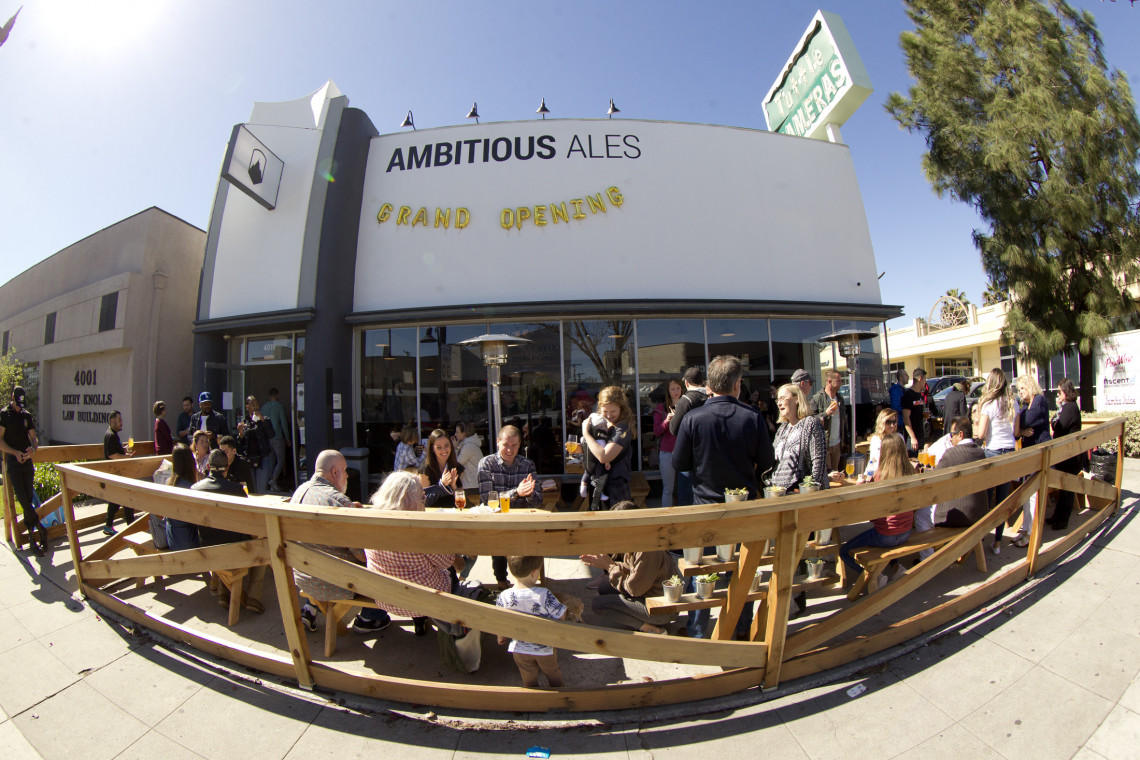 Ambitious Ales is one of many small businesses that are thriving in Bixby Knolls, a gentrifying neighborhood just minutes from downtown Long Beach that includes charming historic homes, a thriving business district and a vibrant community spirit. Since Ambitious Ales does not have a kitchen, it is collaborating with local eateries to offer everything from signature pizzas from neighboring Pow Wow Pizza to tasty Thai recipes from Aura Thai. Patrons can order from nearby restaurants and the food will be delivered to them where they sit at Ambitious Ales.
After talking with Garrett about his vision, I felt compelled to experience it for myself. On my approach, I could see the patio was filled with people: families with children, young adults out for a night on the town, alongside more seasoned aficionados of fine brew. Through the gleaming plate windows, I saw people sitting together at communal tables playing boardgames, engaging in conversation, and of course — drinking great craft beer.
I myself was ambitious enough to try four different flavors during my visit. My personal favorite? The More Better, a porter conditioned on organic toasted coconut and cacao nibs. Yum. Stop by and discover your favorite at 4019 Atlantic Avenue.
Ambitious Ales is a place you'll be welcome too.