FIRST ANNUAL SNOW DAY
HOW A LOCAL REAL ESTATE GROUP MADE IT SNOW IN LONG BEACH.
By Lindsey Goodrow
Families and friends put on their mittens, scarves, and ugly sweaters to join The Whipple Group in celebrating their first annual Snow Day, on Sunday, December 5th. The Whipple Group created a magical winter wonderland to spread joy and cheer to the community they proudly serve. Smiling faces walked carefully down a snowy path to find a festive gathering next to Santa's Workshop. Hot chocolate was poured into cups for children waiting in line to see Santa and libations poured out for their parents.
The cocktails not only warmed up adult guests, but paid homage to the neighborhoods that The Whipple Group serves, such as The Rancho-ho-ho Estates, Signal Hill Sour, Belmont Shore, Mez-Cal Heights, and the Rose Park. A DJ booth built ten feet in the air and wrapped like a giant present kept the spirit jolly as the speakers pumped out all the classic holiday tunes.
There was an exciting variety of games and contests to get involved in, including sledding, an ugly sweater contest, and making your own snowman using toilet paper and bows.
Alan Gomez of Commodity took home the gold for the ugly sweater contest in his bright red suit which was covered in fir trees, holly, and llamas.
Snow Day's main attraction was the thousands of pounds of fresh snow, which guests were invited to sled down and play in. As the Southern California climate is unlikely to see real snow, the Whipple Group ordered snow to be brought in, just for the event. Long Beach Ice transported giant blocks of ice on their freezer truck beds to the Snow Day site and then loaded the cubes into a giant ice crusher.
This machine then shot the crushed snow through a tube, falling wherever the hose aimed. Children watched in fascination as ice cube after ice cube was crushed into powdery snow, piling up into a giant snow hill. They then grabbed their plastic sleds and took turns flying down it.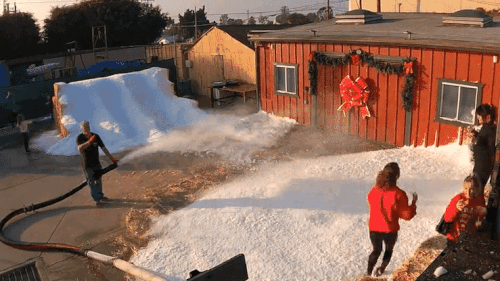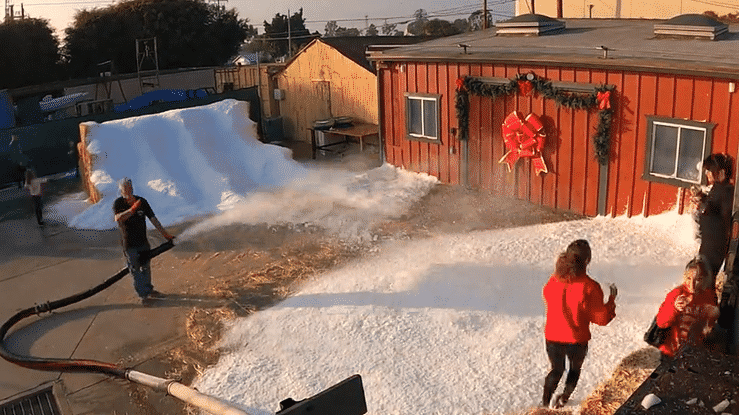 To document the evening, Mario Orlando walked around capturing every magical candid moment. Guests could also take their own pictures in a photo booth that was set up right next to Santa.
Beatrix Whipple, CEO and Realtor of The Whipple Group, enjoys putting on joyous events such as this because it allows families and friends to take a much-needed break from the stress of the holiday season and come together to enjoy each other's company.
The Whipple Group and the community they serve will be looking forward to the next Snow Day, set to take place next December.
About The Whipple Group
Beatrix Whipple and her caring team are in the business of making life-changing decisions easy and fun, which is why they have nearly 200 five-star client reviews on Zillow, earning them Premier Agent status. The Whipple Group is listed in the Top 5 of Long Beach Post's "Best Of" in the Real Estate category as well as in the Top 10 Real Estate Groups on Yelp.
These local professionals serve Long Beach, Lakewood, L.A. and Orange County from their offices at 2883 East Spring Street in Long Beach.
From this central location, they offer area residents a full range of real estate services, including buy/sell representation, property valuation, comprehensive home marketing, and strategic negotiation between finance professionals, escrow companies, and all parties to a transaction.
Beatrix Whipple Lic#01355505
Keller Williams Pacific Estates Lic#01917184