JZ LIGHT SHOW ON PATTIZ AVENUE
JZ LIGHT SHOW ON PATTIZ AVENUE
FRIENDS, FAMILY, AND NEIGHBORS GATHER FOR A FESTIVE LIGHT SPECTACULAR
By Lindsey Goodrow
It's the most wonderful time of the year. And although it's getting darker and colder every day, we can find comfort in the fact that the holiday cheer is alive and well in Long Beach, California. Neighborhoods all around, from the south side of Belmont Shore, to the east in Wrigley, up to Bixby and back around to Rancho Estates, have absolutely splattered their homes with decorative lighting, filling the city with brightness and cheer.
There are lights that twinkle and shine. Lights that resemble icicles, snowflakes, candycanes, and stars. Lights that are shades of red, green, purple, orange, and red. Lights that shine blue and white. Big bulbs, little bulbs, and bulbs of all sizes in between. Lights wrapped around hedges and palm trees and porches. Lights stapled neatly on roof lines or haphazardly strewn around a lawn.
Some special lights that are shimmering ever so brightly in Long Beach are coming from a house on Pattiz Avenue in Rancho Estates. These lights twinkle, flash, and dance in all fantastical colors and variations that one can imagine, and they do so every night during the holiday season.
From the day after Thanksgiving up until January 3rd, everyone is invited to come see this dazzling display of light art.
Whether you're looking to get into the holiday spirit, you want to enjoy a free show surrounded by kind strangers, or you just want to get outside for a bit and breathe in the crisp air, stop by Pattiz Avenue to check out the JZ light show!
THE MEANING BEHIND THE LIGHTS
Around Halloween of 2020, the Johnson-Zaragoza family found out that their aunt had terminal cancer and only a few precious months left to live. With that, she immediately decided to put up her Christmas lights and enjoy her favorite holiday one last time. She made it through the Christmas season but sadly passed away on January 3rd, 2023. In honor of their aunt, the Johnson-Zaragoza (JZ) family, now sets up a holiday light spectacular from the day following Thanksgiving until January 3rd. All are welcome to enjoy the lights!
This is the second year that the JZ Light Show has been put on. And this year is bigger and brighter than ever. To use the phrase, "going all out" would be an understatement; the home went from using 25,000 festive lights for an hour-long show to well over 60,000, and each light is choreographed and synchronized to season-themed music! The JZ family programmed this epic performance themselves.
Video footage provided by JZ Light Show and edited by Natalie Miranda
IT'S A WONDERFUL NIGHT
This year, the JZ light show is bringing out all the stops. The street will be closed off for the bigger shows, and families can set up chairs and blankets to watch the performance. The JZ family has also enlisted the help from neighboring families, so don't be surprised when houses up and down the street play a role in all the fun! These high quality shows include special effects, sounds bits from the muppets, all your favorite holiday music, aerial performances, and more!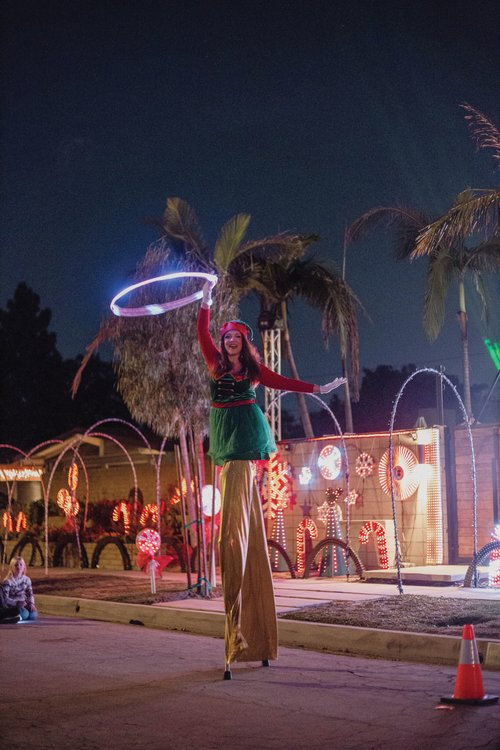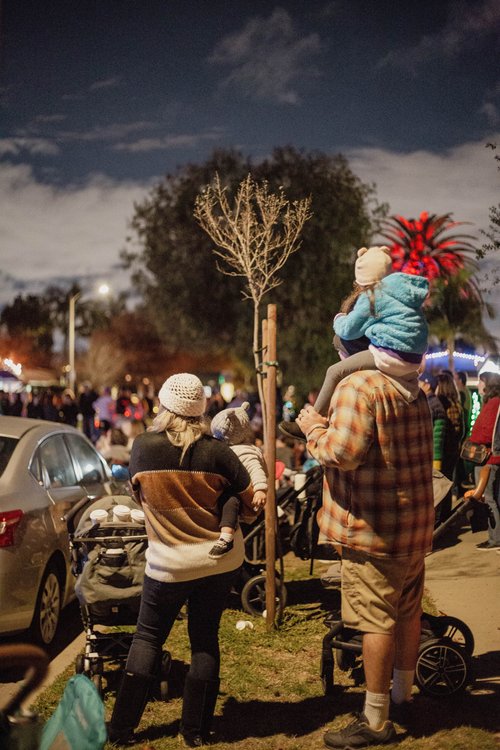 AN AERIAL GRINCHMAS
Watch as Aerial Butterflies take to the skies in a Grinch-themed cirque performance on Pattiz Avenue. Aerial performances occur during special Grand Light Shows, so make sure to check the website for future show dates.
A HELPING HAND
The show on December 15th was special in that it also included a Toy Drive which benefited two different children's charities—that night's guests were encouraged to bring unwrapped toys for children in need of extra holiday cheer. Look to next year's shows for the next toy drive.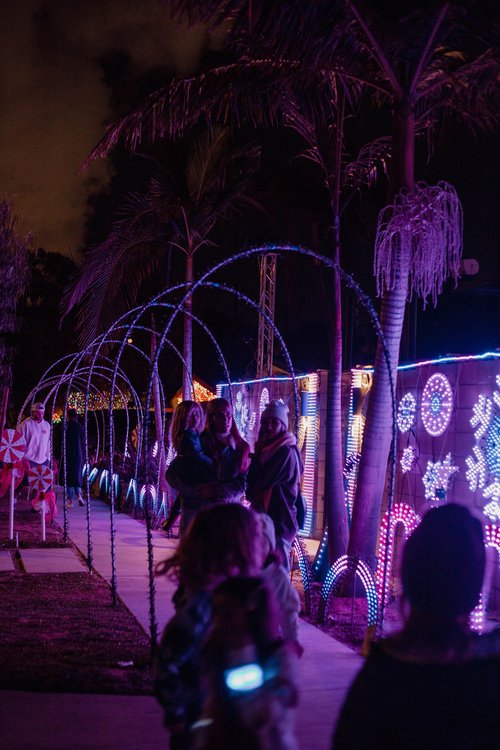 DON'T MISS OUT!
Be sure to stop by Pattiz Avenue this holiday season for a once-in-a-lifetime experience! Lights are on display every night, but the bigger shows run on Friday, Saturday, Sunday at 6:30pm and 8pm, with each show lasting one hour and fifteen minutes. So bundle up, bring your loved ones, and settle in for a night of wholesome festive fun.
"Blessed is the season which engages the whole world in a conspiracy of love." – Hamilton Wright Mabie
May your holidays be bright and cheerful and filled with spectacular moments of fun and laughter with your loved ones. Happy holidays! For more details on upcoming JZ light shows on Pattiz, check out the calendar: JZ Light Show