Los Angeles Landmark: The Bueller House
The Bueller House
THE HISTORICAL GLAMOR OF RANCHO LOS CERRITOS.
By Lindsey Goodrow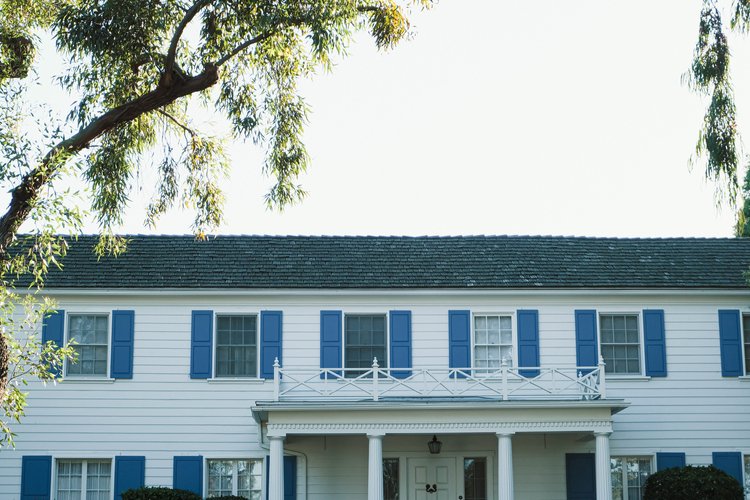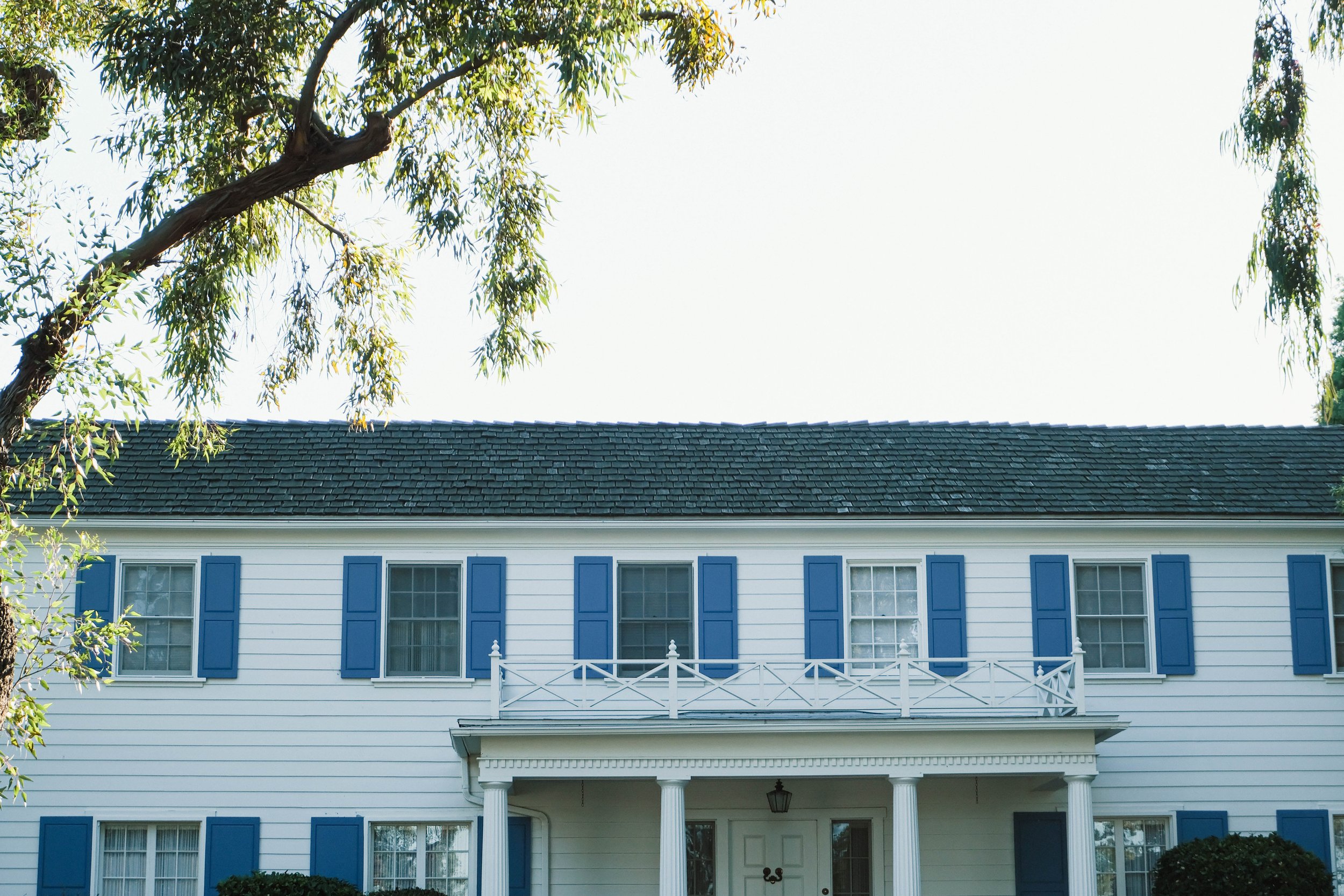 THE BUELLER HOUSE
There is a neighborhood in Southern California known to make appearances in countless Hollywood films, and no, it isn't Hollywood. The Rancho Los Cerritos neighborhood in Long Beach, California, has been popularly chosen as a set location throughout the years due to its many marvelous and awe-inspiring homes.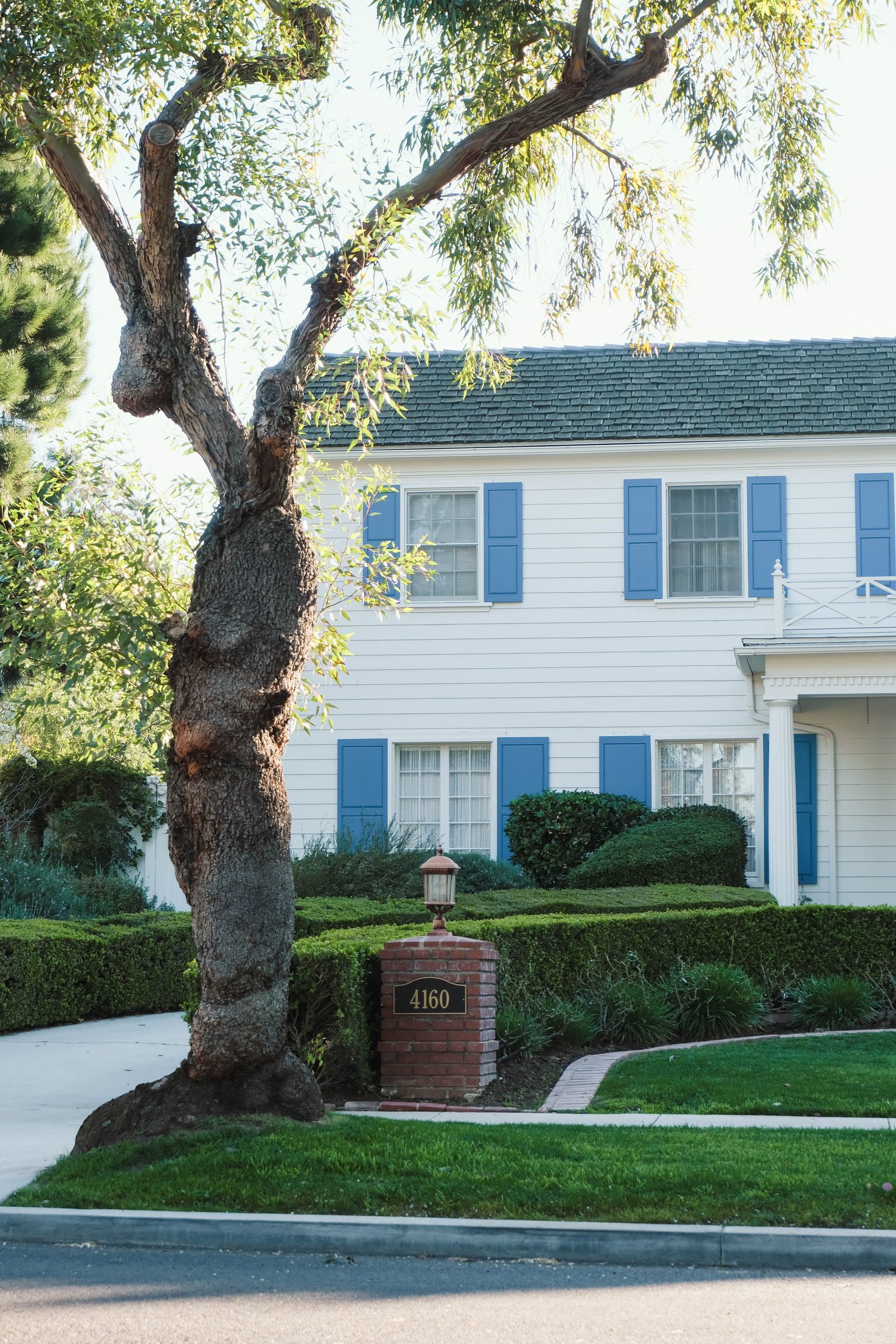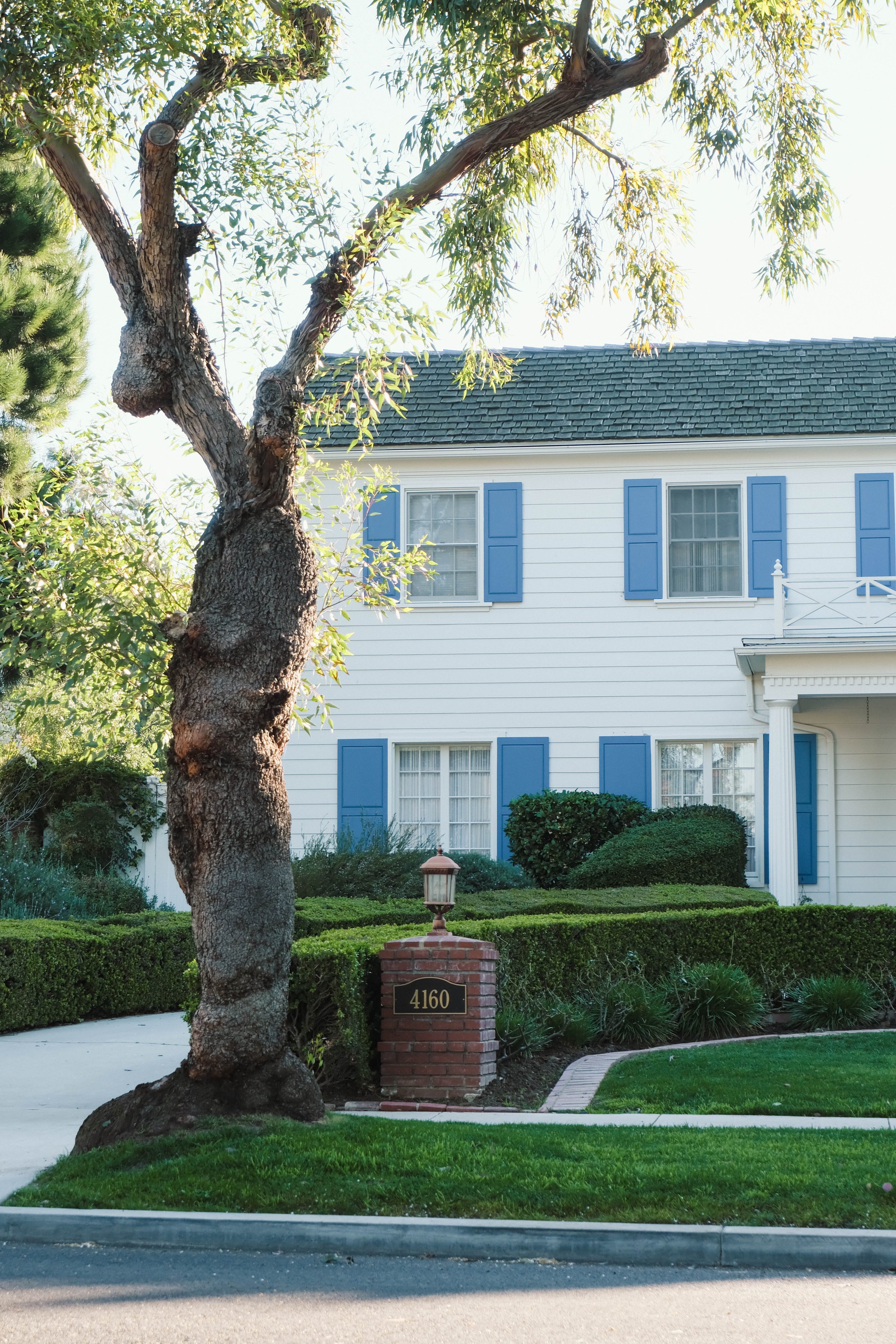 In 1986, a detached teacher in a classroom full of equally detached students called out in a monotone drone the now infamous question, "Bueller? Bueller?..." in hopeless repetition, aloof to the fact that there was, in fact, no student named "Bueller" present. Ferris Bueller, a mischievous and all-too-witty teenager, was pretending to be sick in bed at home, which was a Colonial-style structure full of grandeur. This home, supposedly nestled in the Chicago suburbs, actually lies in Los Cerritos, a quiet residential area located within Bixby Knolls, the northern edge of the city of Long Beach. . Many beautiful homes in this neighborhood appear on the big screen, in features such as Ferris Bueller's Day Off, Donnie Darko, She's All That, American Pie, and countless others.
Beyond the appeal to the silver screen, Los Cerritos has a rich history that deserves to be unveiled, and the gates to one of Long Beach's oldest gated communities is beckoning to be opened.
HISTORY
The Bueller house was built in 1928. It has 7 bedrooms, 5 baths, and spans 4,900 square feet. The rest of the houses in this idyllic tract, which number 700 and are home to about 2,000 residents, are even grander in size and prominence. Originally established and constructed in 1906, the Los Cerritos neighborhood was built well before the Hollywood era even began (The first film made entirely in Hollywood was a short film in 1910 titled In Old California).
For about two decades after the initial groundwork for a neighborhood was laid out, lots were sold here and there without much of a splash. In 1920, an audacious oilman by the name of Thomas Gilchrist purchased 10 acres, subsequently naming this new development "La Linda", or "the pretty". A home currently listed on La Linda has a generous price tag of $3.2 million — the historic George Hathaway Bixby Ranch House. This home is a whopping 30,492-square-foot lot with a total of 8 bedrooms and 7 baths. Imagine the upkeep! If they had a child in that household "sick" from school, surely the help would have seen to it that he didn't leave his bed, even for a day full of chaotic adventure and classic car wreckage.
The historic George Hathaway Bixby Ranch House is no exception to the extravagant homes in Los Cerritos. This neighborhood has a quiet and hidden grandeur, with residences and households made up of old money, passed down through generations from 1930s oil families, doctors, bankers and law partners. But the history of this grand house is worth noting. George Hathaway Bixby was the son of Jotham Bixby, owner of Rancho Los Cerritos, and considered by many to be the father of Long Beach.
Jotham Bixby acquired the huge Rancho Los Cerritos land grant in the 1860s, and used much of the land for sheep herding. This land would later develop into Bellflower, Paramount, Signal Hill and Lakewood. Jotham gave his firstborn son, George, a 10 acre plot of land to raise his family on as a gift for graduating college. It's fun to imagine George as a trouble-making youth, playing hooky from school and getting into untold mischief like Ferris Bueller does in a home much like the one he grew up in. But George stayed in school. He graduated from Yale and went on to have a great vision of all that Long Beach could be, directing his energy towards the development and upbuilding of this budding city.
George Hathaway Bixby died in 1922, just as Long Beach experienced its first boom in oil after that was discovered in Signal Hill.
In its current glory, Los Cerritos is a quaint but affluent neighborhood that hides a deep well of history and glamor behind its gates. It is also called Virginia Country Club because it is home to the upscale and historical golf course by the same name. A charming museum and lush gardens are a few other notable highlights in Los Cerritos, and those who enjoy leisurely hikes or riveting bird-watching can walk along the Dominguez Gap Wetlands trails that border the Los Angeles River here.
In 1866, Rancho Los Cerritos was sold to Flint, Bixby, & Co. In 1881, Jotham Bixby leased the land that would become Long Beach to William Willmore. It may be fascinating to find that many of the homes in Los Cerritos appear on the movie screen, but it is far more amazing to know that these houses can be traced back to the founding of the city of Long Beach.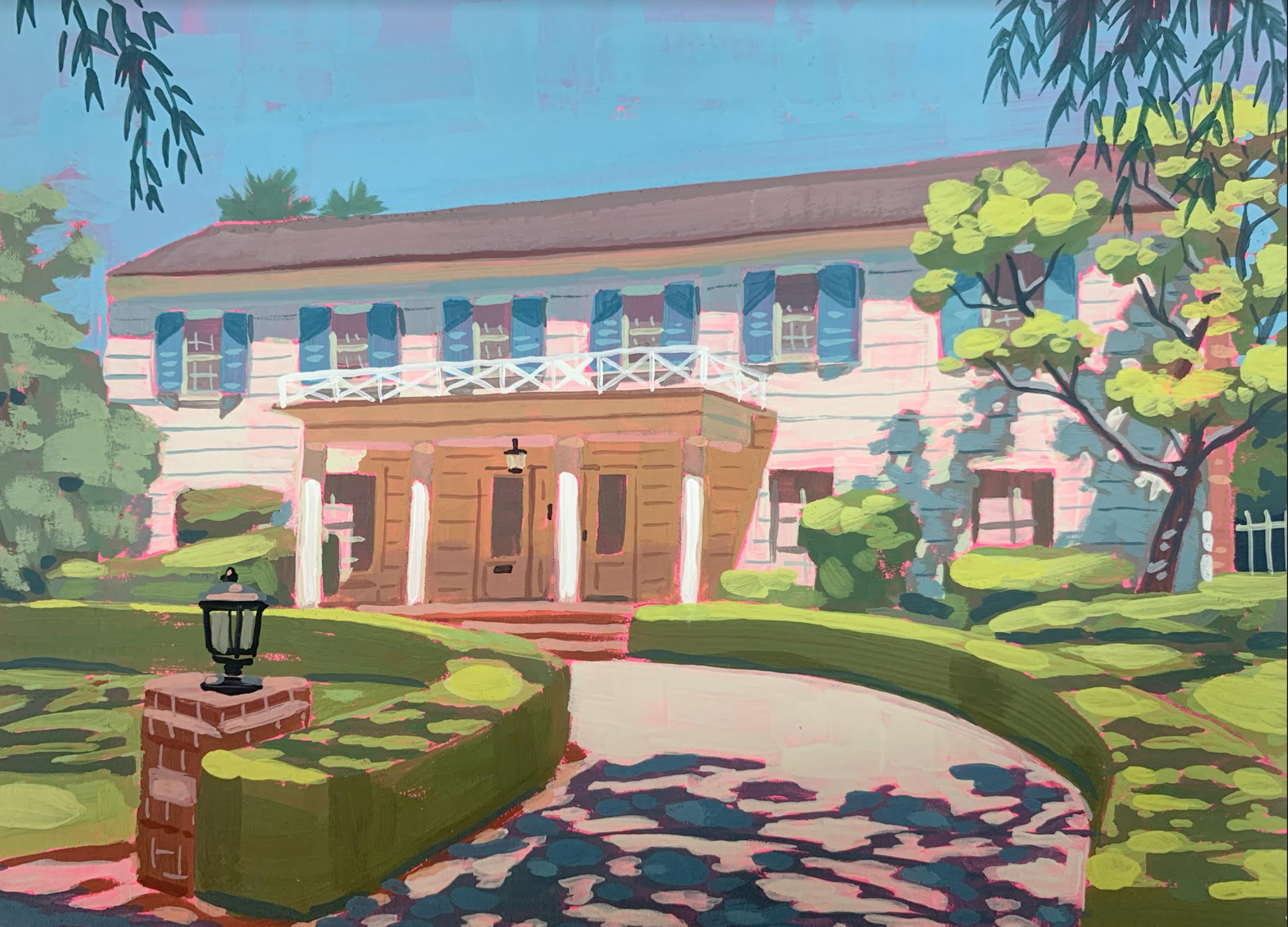 painting by Jamie Tabelson