Long Beach Events: Got Your Back
Got Your Back
The Community Event We Can't Stop Talking About
Interviewed by Lindsey Goodrow
What is the thing you love most about Long Beach? The answer we hear often is the strong sense of community that can be felt here. And that is what makes Got Your Back, a community-driven event, so special. If you are looking to get involved, meet new people, eat new food, and be surrounded by beautiful art in a bubble of fun music, then you have to check out this monthly experience.
Whipple Group wanted to get the lowdown on what makes Got Your Back so incredible,
and so we sat down with co-founders Sasha and Brennan to pick their foodie brains all about it:
What is Got Your Back?

Got Your Back is an events organization started by Sasha Schoen and Brennan Villarreal with the goal of building community through food, wine, music and art. We strive to create spaces that are accessible to everyone no matter their experiences in fine dining, restaurant or foodie world. It's currently a monthly event held on the last Sunday of the month in a backyard in the Rose Park neighborhood of Long Beach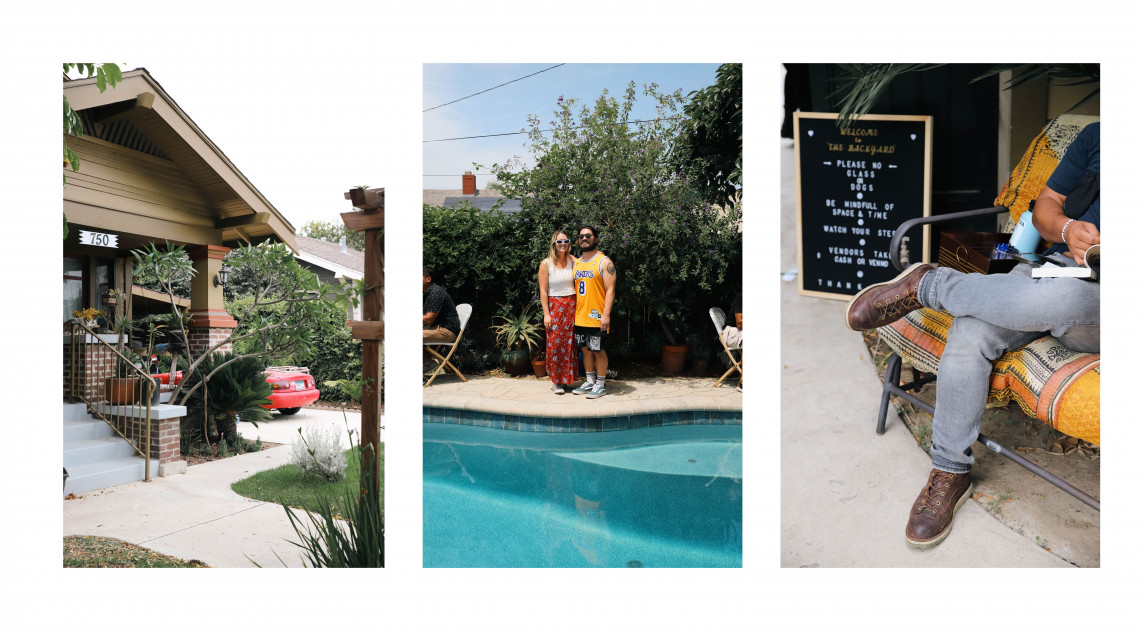 Tell us what's behind the name—the concept of it?
The phrase "got your back" stems from the culture built at Lasa by CDC Nico de Leon, who is now executive chef/co-owner of Lasita. The beginning of every service both FOH and BOH line up and repeat back to each other while fist bumping "got your back" to signify that during the coming service we're all a team and no matter how weeded/behind you get you have a teammate there to help you out of it. We both really resonated with the culture of support within the entire restaurant staff and want to build that out and express that to any chef/artist/dj/vendor and guest that we invite to our events. No matter what, we're there for you in whatever it is that you need. Also, in terms of community it signifies that we're in it together to better one another and the community as a whole not just looking out for us and our own success, but the success of everyone.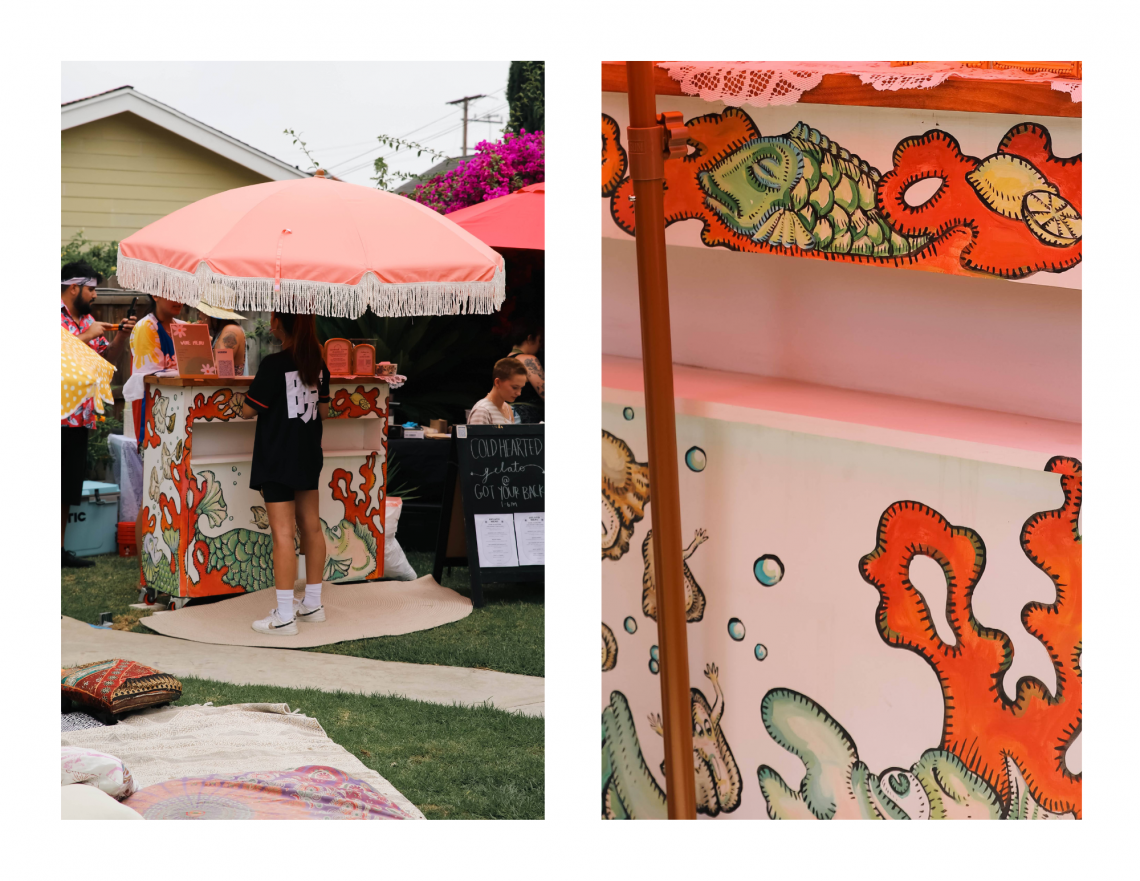 Who are the people who started it? Tell us about them.
Both Brennan and Sasha come from the hospitality/restaurant industry. Brennan's been cooking for the last 12-15 years all over Long Beach and LA. Sasha has been serving, bartending and managing spaces also all over Long Beach and LA for the last decade. They are both recently fully employed at Lasita in Chinatown.
What kind of vendors can people expect to see there? How do you know them?

We host 3-4 chefs per event, and 2-3 art or community oriented folks/organizations.
Sasha curates the natural wine selections, but there is also a focus on crafted NA beverages,
so there is always a bartender/company pouring something handmade and interesting that is alcohol-free.
That is an important factor, that there is the same care and thought into NA bevs as wine.
There is always a DJ, usually vinyl but not always.
Most of these vendors have been people we've worked with throughout our careers and some have been recommended to us.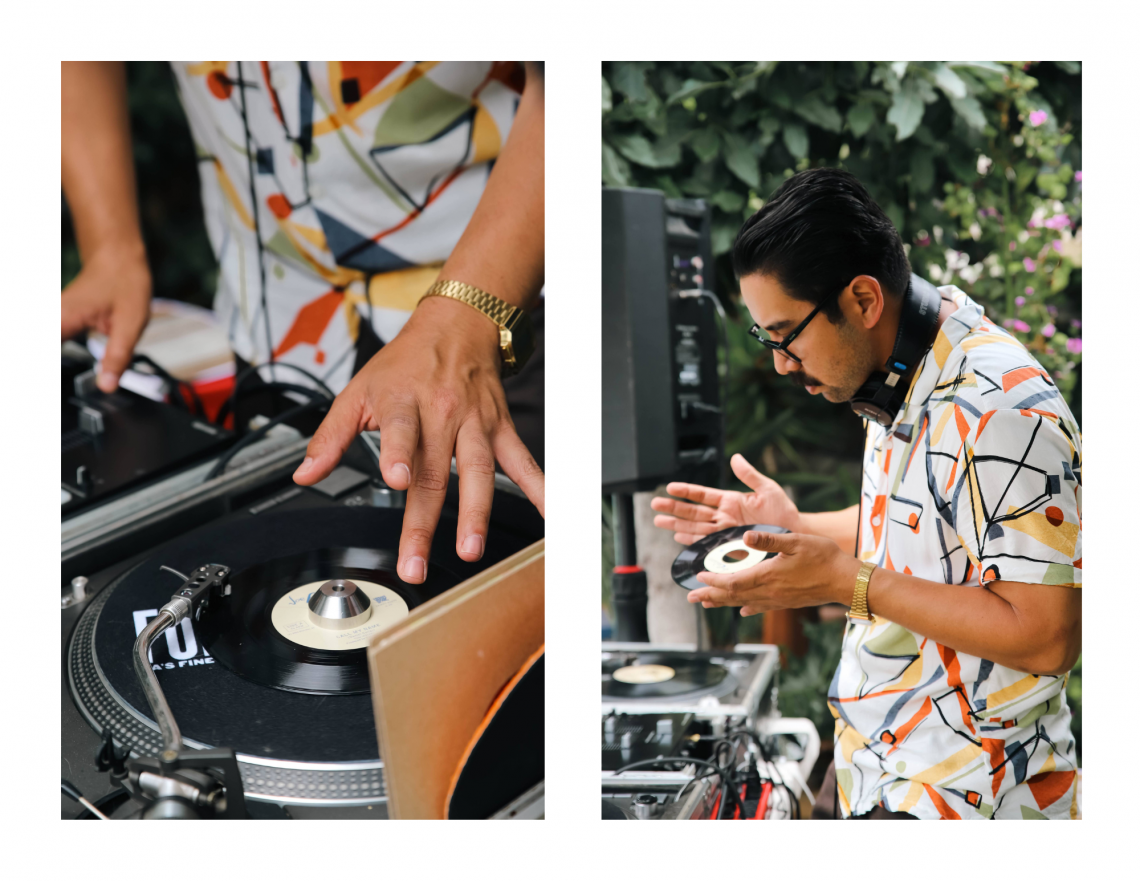 Who all can come? Is there a fee?
How can we best be prepared when we show up at the gate—
walk us through the process of attending a Got Your Back event.

The events are open to the community for a $5 entrance fee. It's family friendly. We just don't allow dogs/pets. When you walk up to the back gate there will be a person there to greet you and collect your entrance fee. Last month, you were also given a zine (handmade booklet) with information about that month's vendors and little prompts to help you start conversations with new people. Then you're free to roam the back yard. The first few tables you'll see are usually the food and as you make your way towards the back you'll find the bar with both wine and NA beverages. Around the corner there is usually art in some format. be it live painting or tattooing or prints made by local artists. Then feel free to grab a seat and indulge, dance and conversate. And hopefully have a blast!
What was special about the last event?
What will be special about the next one?

Last month was special for a multitude of reasons. It was the first month we donated some of our profits to an organization we find to be doing good things for their community, which was All Power Books. We collaborated with Rose Park Running Club to celebrate their 3-year anniversary and help them raise funds as well. We also made a zine in collaboration with PLACE LB, a donation based print shop in LB who host zine workshops and community events.

Every month's lineup changes which is what makes each event special. You can always expect something new and different month to month. Be it from the chefs, community organizations, artists and DJs.
In August we are hosting an awesome DJ, Mahiishaa, who just recently moved to LA from Oaxaca where they were doing
somewhat similar events as we do here. They hosted events and worked directly with a chef as well.
We're also hosting two chefs, and partners, Caroline Leffe and Ariana Eskenazi, for their first ever pop up.
Eskanazi is a chef and runs the kitchen of Felix in Venice and Leffe cooks at Horses in Santa Monica.
We're stoked to see what creativity they come up with outside the confines of their jobs.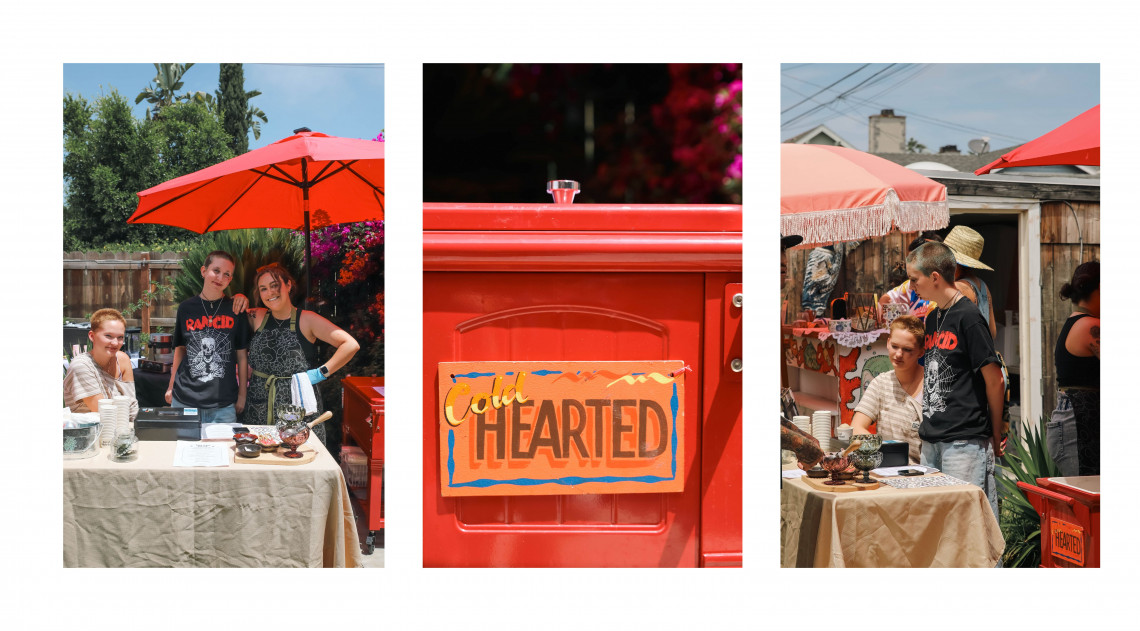 What would you like to see in the future for Got Your Back?

We'd like to be able to gain enough profit that we can do more fundraisers and charity type events. Giving back to the community is really important to us. I think moving into fall and winter there's a lot of new possibilities. Maybe a change in venue, something indoors, more collaborations. We've recently been hired to cook and pair wine for a wedding! Doing more intimate supper club/dinner parties is something that we're totally open to. Ideally in the future we hope that the atmosphere and community we strive to create leads us to a more permanent space, like owning our own restaurant.
When can we expect another event? How long will these go on for?

Our next event is August 27th (always the last Sunday of the month).
I think we're planning through September and the possibility of a spooky October. We will see after that!
For more information on Got Your Back and updates on future events, visit the Instagram page.