Handcrafting Happiness at Frosted Cupcakery
"Rich in Tradition, Sweet in Presentation"
For Stacia Samartan and her mom and business partner, Nancy Hanley, crafting happiness by hand from delectable ingredients is more than a job — it's a tradition. In fact, it's baked right into their motto at Frosted Cupcakery in Long Beach: "Rich in Tradition, Sweet in Presentation."
"We started our business 14 years ago," Stacia said, "before the upswing in cupcake shops. It has always been important to us to recognize the tradition of a home-baked product that people have been making in their kitchens forever. In our family, baking at home is something we shared together as a family growing up. We want our customers to see that we're not just a machine pumping out as much product as we can. We care about our customers and the quality of the cupcakes we serve."
Stacia previously worked in the fashion industry, where she learned the artistry behind creating a recognizable brand. "It gave me such an insight into how a brand is built and the importance of paying attention to all the details. It helped me a lot to build this business and find joy not just in selling thousands of cupcakes. There has to be joy in the work."
It was during a trip to Vancouver in 2003 that she visited a gourmet cupcake boutique for the first time. Afterward, she began thinking about baking as a business, and she introduced the idea to her mom. The concept took form, and after a full year of planning, Stacia and Nancy selected their first 500-square foot location on Claremont Avenue in Long Beach. "I kept my job for the first year, and my mom worked in the shop during the week, and I worked there on the weekend. We are so grateful to the Long Beach community and all the people who really believed in us and were willing to try us."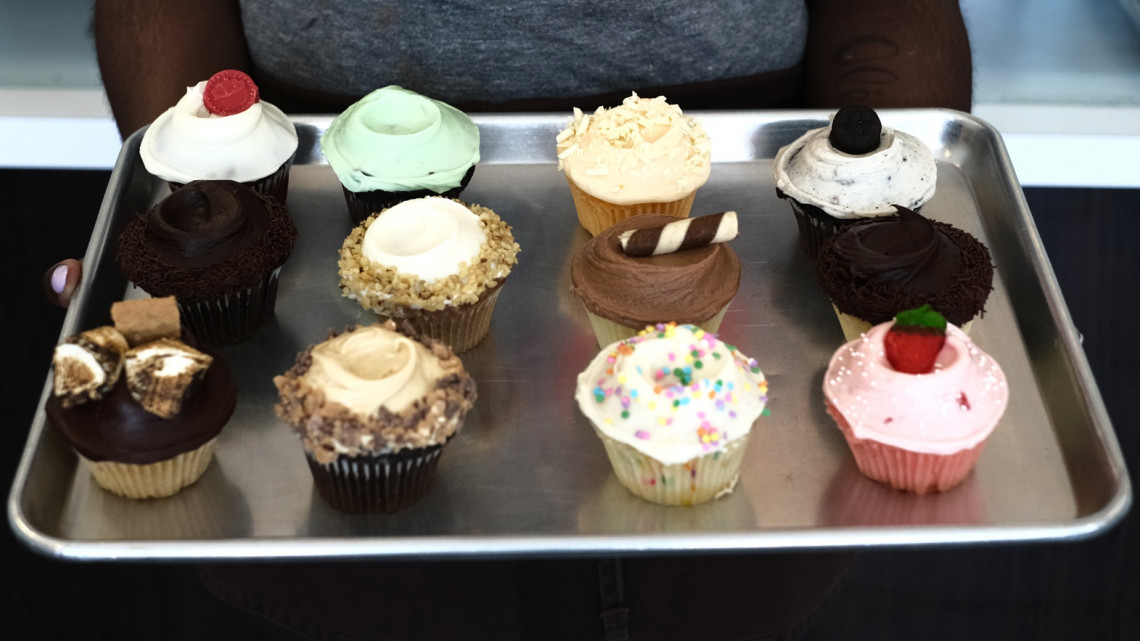 Three years later, they had outgrown their start-up location and acquired the large storefront that is their flagship store today at 4817 East 2nd Street in Long Beach. Over the years, they have operated successful locations in Hollywood and Hermosa Beach, ultimately consolidating to a second store closer to home at the Pacific City oceanfront mall in Huntington Beach.
At Frosted Cupcakery, everything is truly handcrafted. Stacia explained that frosting each cupcake by hand, sans piping bags, results in her cupcakes' signature look. "We put time, effort, love and care into creating our product. Calling it handcrafted is not just a term; we really do it."
The menu includes a variety of fan favorites — like Royal White with Nutella Buttercream frosting and Chocolate with Caramel Buttercream frosting rimmed with crushed Heath Bar — along with a flavor of the month, seasonal selections and both gluten-free and vegan options. "It's important to us to provide options for people with dietary restrictions and personal convictions. We look at them the same way we look at our traditional recipes. Working with different food products changes the experience, and it's important to us that people say, 'This is really good.' We've worked on recipes for a whole year before making them part of our menu."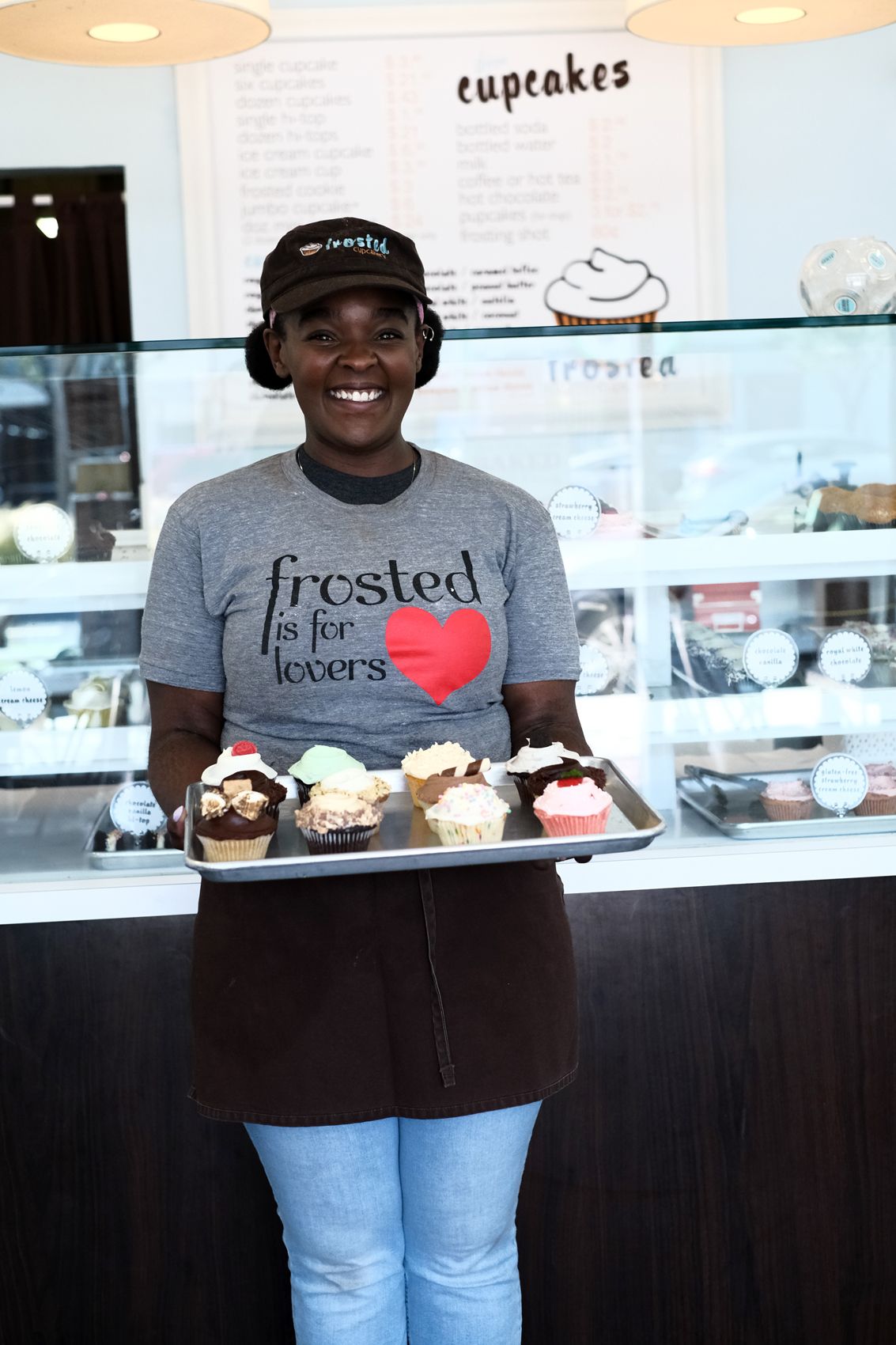 While the focus is, and always will be, on cupcakes, Frosted Cupcakery also offers delish frosted sugar cookies, ice cream-filled cupcakes and hi-top mini cupcake sandwiches — bit-sized drops of heaven with frosting spread between two mini cupcake tops.
Frosted Cupcakery delights in filling special orders for celebrations of all kinds. "At no charge, customers can add sprinkles, crystals, glitter or tint to their buttercream or cream cheese frostings, but we still stick with a traditional look. We don't work with things like fondant that we don't feel are yummy and edible. We can also mold chocolate into different shapes because everybody wants to eat a little chocolate with their cupcake."
So besides being Instagram-worthy and oh-so-delicious, why, exactly, are cupcakes so magical? According to Stacia, the magic is in cupcakes' individuality. "People love that it's their own complete cake and they don't have to feel guilty about enjoying a single serving. And when someone is having a special event, it's fun to offer a variety of flavors to please everyone."
That individuality mirrors one of the things that is most special about the Long Beach community.
"This is such a diverse community, and we want everybody to know they are welcome, and we will serve them in the best way we can. To us, it's always important that every person feels comfortable walking into one of our stores. "
Who knew that cupcakes could be such a force for good in the world? Stacia and Nancy did. As business owners, employers and neighbors, they are committed to handcrafting happiness in their community every day. "We care about each cupcake we make and where it's going," Stacia said. "We think about it every day when we start baking at 4:30 a.m. This cupcake is going to somebody who is going to enjoy it. It's exciting and brings us so much pride to know we're part of someone's celebration. It has always been part of our family tradition, and now being part of other people's memories is just beyond anything we could have imagined. We're so grateful to have a voice in this community."
Frosted Cupcakery, 4817 E. 2nd Street, Long Beach - [email protected]