Local Business Highlight: Ceremony Chainstitch
Meet Nico, the Front Woman Behind Ceremony Chainstitch.
How Curiosity Turns to Passion Turns to a Sought-After Business
By Lindsey Goodrow
Nico was first drawn to vintage embroidery out of sheer curiosity. While working as an event coordinator for Lot Stock and Barrel, a design studio in Los Angeles that sells clothing with custom embroidery, she observed how chainstitching could turn a mundane article of clothing into a work of art. Her curiosity eventually evolved into a full-blown obsession. She fought her LA to LB work-to-home commute by learning the ins and outs of a vintage embroidery machine.
Nico never imagined the hobby this led to would transform into a full-blown career. Or that she would come to own her own vintage Singer. She couldn't anticipate, when she posted her personal chainstiching projects to social media, that she was laying the foundation for Ceremony Chainstich.
Lindsey, the contributing writer for the Whipple Group blog, interviewed Nico to learn more about her craft, her business, and her relationship with the local community.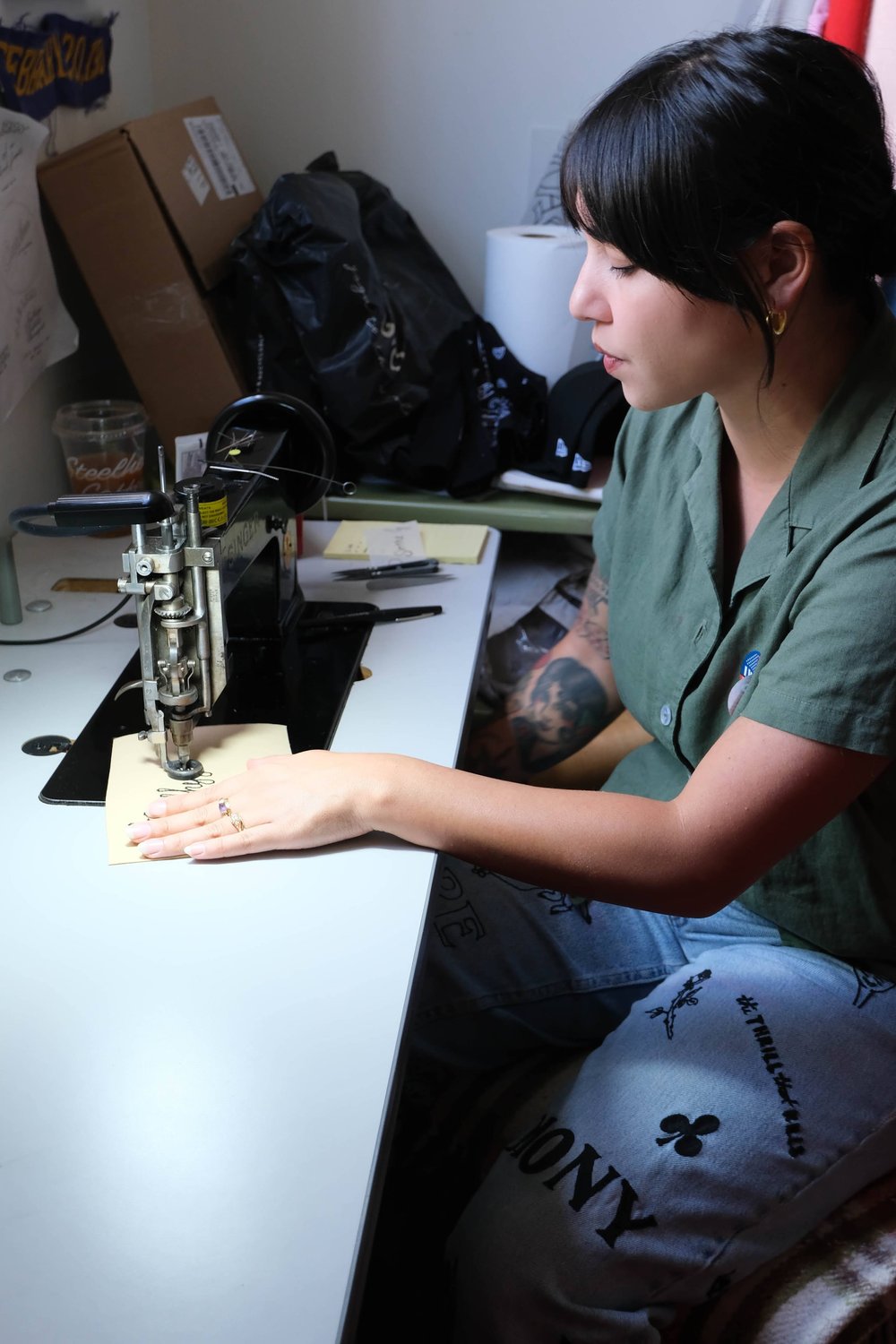 For the layman (including myself) can you define chainstitching and tell us how it differentiates from other embroidery techniques?
I'm still learning so much! The machine I work on is from the 1920s. (A Singer lovingly named Mona). During the industrial revolution, it was used soleyy for uniforms. It added names and company logos to front pockets [in essence, It individualized people that were otherwise being placed on a conveyor belt]..
The difference between other machines, first off, is there's a hand crank.
My right hand is doing the cranking and guiding while my right hand is taking a vacation. It's kind of like a joystick.
While regular sewing machines tailor and mend, this machine only does chain stitch or moss stitch (think varsity jackets/a towel consistency). Towards the 40s and 50s, chainstiching got way more imaginative and fun (think personalized bowling shirts!)
What's your embroideress origin story?
The first year I got into embroidery was a lot of me playing around on the machine. My former job required me to be on site for movie premiers and coachella every year—It was there that I watched countless pieces of clothing receive custom chainstitching—and I loved watching the process. My mom was a clothing designer (eons ago) and she taught me how to sew when I was young. I have always been comfortable hand-mending my own clothing. I can hem and repair jeans—although tailoring is a whole different ball game. Chainstiching just felt like an organic next step.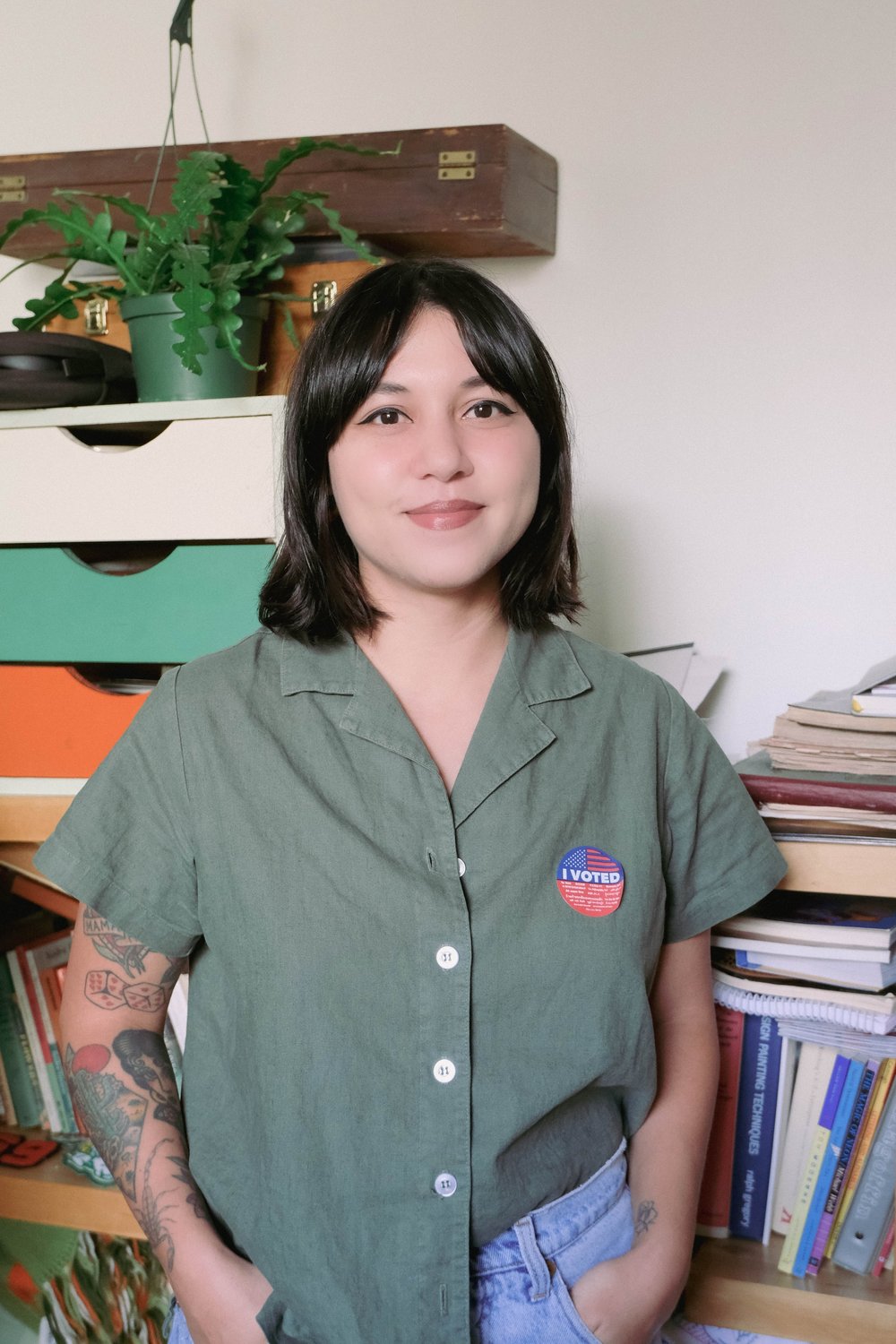 What are a few of your favorite custom order pieces you've done recently and why?
I just finished a stunning wedding veil. This was my dream client; Their request: "These are the words I want. In Old english. Everything else is your decision. We trust you" I had never worked with tulle or lace so at first I was nervous to take this on. But it turned out insanely perfect. Also, when i dropped off the veil to the bride-to-be, she was at a hair salon and there happened to be a few other clients of mine there. It was this surreal experience, really. I feel so grateful.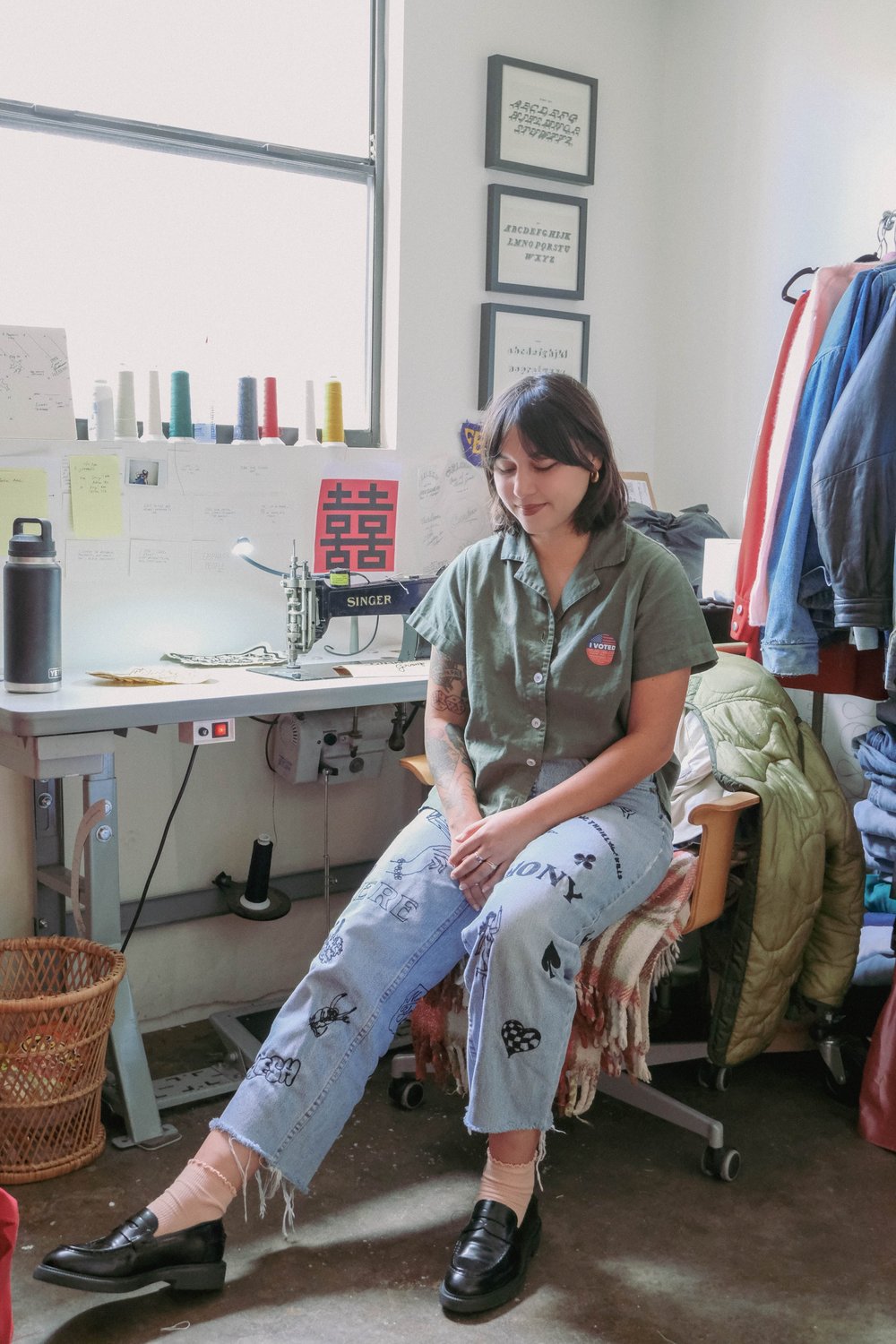 On social media, you recently shared that you moved into a studio space with another creator and maker, Carleen. Can you tell us more about that?
My friend Kelsey AKA Carleen is a friend and [OG] client that I stitched monograms for. I never intended to be in this space, I didn't think I was ready [mentally or financially] to move my business out of my home. But serendipity took over. Turns out, I know the landlord of the building and am close to her daughter. It felt too easy. And, of course, it feels great to move my business away from my cats, who take over my work space and leave hair everywhere and on everything.
What's it like being a part of the creative community in Long Beach?
Do you feel connected to other makers and creators in this city?
It's amazing, and I have Handy Dandy Brandy to thank for it. She would probably roll her eyes hearing this, but she's the mama bear in our community. Her holiday market last year was incredible and brought so many of us together for the first time. So many relationships have sprouted and strengthened because of her. In Long Beach, my creative community has something special that not many people have elsewhere. Maybe it's our generation, but we take care of each other and support each other's growth here. I've been in this city for eight years now, originally hailing from Pomona. I didn't know what to expect when I moved here but I've grown so much and become fully immersed in my loving community. I can't imagine living and working in any other city.
Ceremony Chainstich is named after one of Nico's favorite songs, "Ceremony" by New Order. While many songs written by Ian Curtis sound dreary and hopelessly romantic, this last verse is the perfect testament to Nico's business continuing to grow and evolve in Long Beach, a welcoming city and community:
Picture me and then you start watching
Watching forever
Forever
Watching love grow, forever
Letting me know, forever