Aqua Towers: Not just Condos


BUT A GLAMOROUS NOD TO A BYGONE ERA.
BY LINDSEY GOODROW
illustration by Jamie Tabelson
For a quintessential Southern California experience, one might find oneself walking or bicycling down the Long Beach Shoreline Bike Path, a seven and a half mile stretch of oceanfront path featuring swaying palm trees, grassy bluffs, and the beautiful homes and condominiums that line Ocean Blvd. At the end of that path and directly after crossing Shoreline Blvd are the Aqua Towers, a luxury condominium with far-stretching views of the ocean, mountains, and city. While the towers were built in the last twenty years and have all the amazing and technological features of modernity, the architecture is notable for its Art Deco characteristics.
FEATURES AND AMENITIES
The Aqua Towers are two high rise condominiums located in the heart of downtown Long Beach at 388 and 488 Ocean Blvd. The sea-bordering towers were constructed in 2004 by the Texas-based Genesis Development, and reach high into the sky at a whopping 238 feet, making them the third tallest buildings in the city. They are Long Beach's largest vertical community, consisting of 19 floors with 545 units. For a closer view of these incredible condominiums, Whipple Group offers an exclusive peek inside both towers:
488 Unit (Ocean-facing)
388 Unit (City/Mountain-facing)
Residents in either tower enjoy their own fitness center, swimming pool, jacuzzi, sauna, yoga room, conference center and clubhouse. There are parking structures below the buildings as well as 24/7 security and concierge. When the weather is nice, which it mostly tends to be in sunny Southern California, you can gather with friends and loved ones for a barbeque at the outdoor lounge and dining area. Leading out from either tower is a direct path to the Pacific Ocean, just a few minutes walk until your feet are in the wet sand. You can also stretch your legs and walk wherever you desire, as you are in close proximity to shopping and dining options in the East Village, the Pike, the Ocean Corridor and Pine Avenue! Everything you might ever want or need as well as a fantastic view of the ocean is available at this resort-like condominium.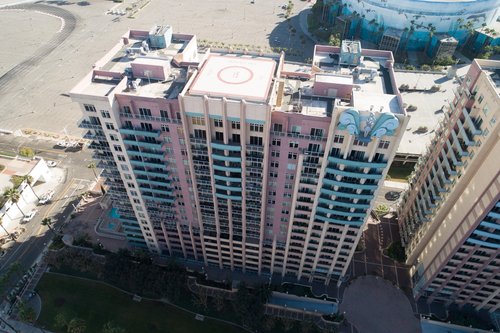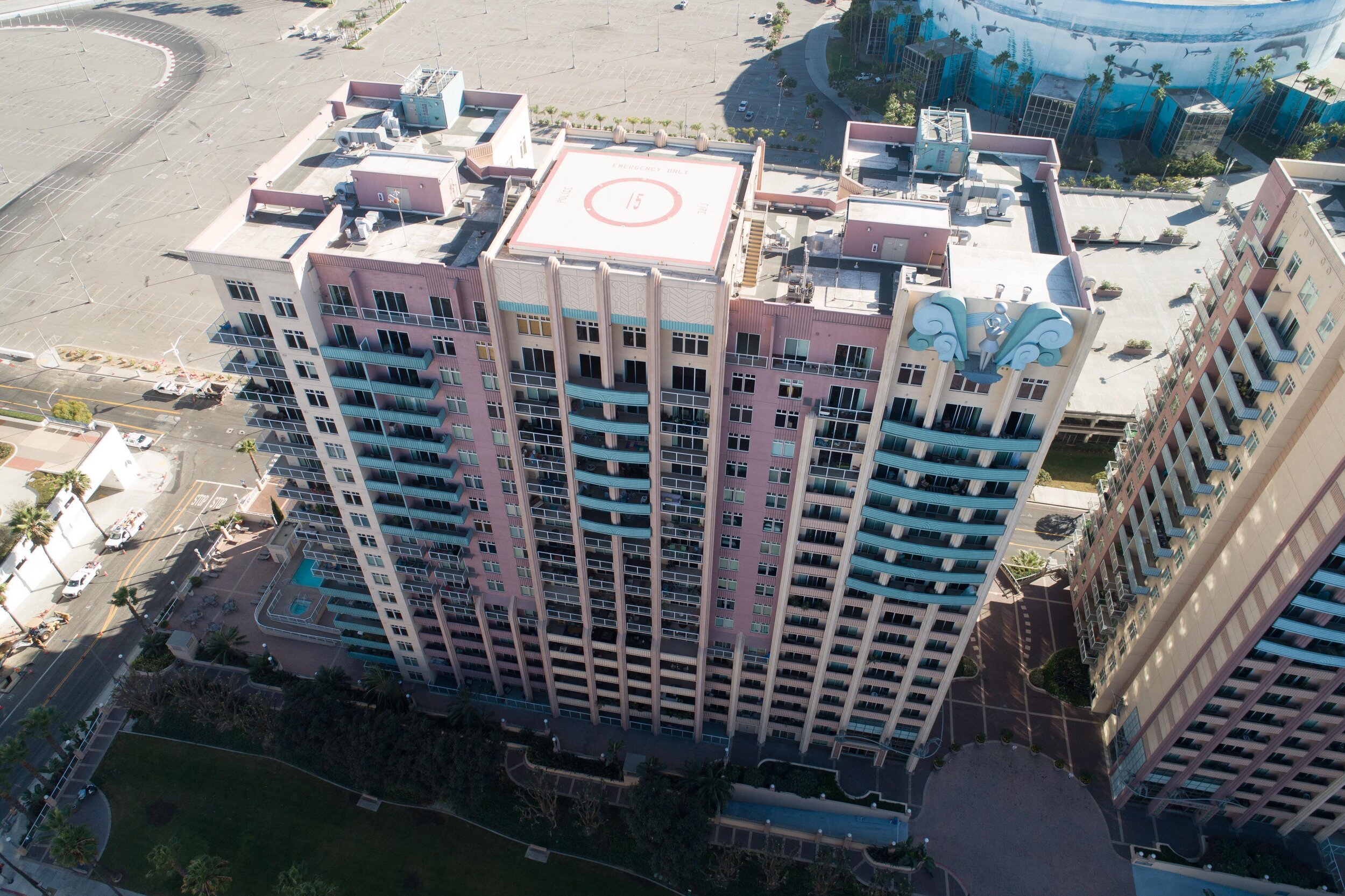 HOLLYWOOD GLAMOUR
Believe it or not, the Aqua Towers were featured on a killer television show on Showtime called Dexter. Although the show takes place in Miami, Florida, much of the shooting during its eight season run was filmed in Long Beach due to the cities' striking similarities (not to mention the production cost is a fraction of the price here). Both cities are known for their Art Deco architecture, with the former having the highest concentration of Art Deco buildings in the world. Pastel colors and streamlined buildings made shots in Long Beach not so different from the vibrancy of Miami.
ART DECO
Art Deco is a style that is equally historical, retro, and fabulous. Not just confined to architecture, this movement spread its influence through the designs of furniture, jewelry, fashion, cars, movie theaters (such as Retro Row's Art Theatre), trains, ocean liners, and everyday objects such as radios and vacuum cleaners. The style is known for boasting colorful buildings and interesting décor elements.
At the very top of the Aqua Towers are two pieces of art that could be mistaken for unique embellishments but actually point to Long Beach's rich Art Deco history. Upon closer inspection, you can see that these embellishments are actually two human-like figures. The figure on the west tower is named Bruce, and he is shown standing on a surfboard and majestically parting pastel blue waves.
SURVIVED BY AN EARTHQUAKE
Long Beach owes much of its Art Deco style to an earthquake that nearly leveled the city in 1933. The Art Deco movement fortunately bore seemingly earthquake-resistant architecture, as the streamlined modern style stood still and strong as the quake tore lesser buildings to rubble. The Long Beach that rose from the dust and ashes of that earthquake was one that embraced it's Art Deco roots.
As the Aqua Towers are the third tallest buildings in Long Beach, it's notable that skyscrapers marked the summit of the Art Deco style; they became the tallest and most recognizable modern buildings in the world. They were designed to show the prestige of their builders through their height, shape, and dramatic color. The Aqua Towers show the prestige of Long Beach through it's gentle nod to a colorful history.