Randy's Donuts: Historically Wacky and Delicious
RANDY'S DONUTS
HISTORICALLY WACKY AND DELICIOUS
By Lindsey Goodrow
With a perpetual line that wraps around the block, there's no denying that Randy's Donuts in Inglewood is offering up something delicious. It is also no mystery, with their giant donut plopped atop the otherwise ordinary building, what that delicious item is. There isn't an easy choice to make when picking a favorite donut here, so you might as well order one dozen - a box filled with buttermilks, glazed twists, long johns, jellies, Devil's food cakes, coconuts, french crullers, and perhaps an apple fritter if you're feeling indulgent.
The huge donut on top of Randy's Donut shop is a magnificent structure, designed by a structural engineer named Richard Bradshaw to stand 32.5 feet tall. He accomplished this architectural feat by rolling steel rods together and covering them with gunite, a material composed of concrete, sand, and water. This substance is often used to line tunnels, pools, or to fill in leaky cracks that may otherwise lead to structural damage. Gunite can withstand a lot of wear and tear, so it's no wonder this ginormous donut has endured since the 1950's.
The Randy's Donuts that Inglewood and the greater Los Angeles area has grown up loving was originally Big Do-Nuts, a donut chain started by Russell C. Wendell. Wendell sold his donut-making stand to Robert Escow in 1976, who renamed the shop after his son, Randy. But the weight of this giant donut was apparently too much to bear, as he sold it two years later to the current owners - his cousins and true donut-enthusiasts, Ron and Larry Weintraub.
Grand opening (originally Big Do-Nut), Endeavor space shuttle, Russell C. Wendell
DONUT DRIVE-THRU HISTORY
To own Randy's Donuts is to own a classic Southern California architectural monument. When it originally opened in 1953, the concept of a drive-thru had just emerged with the now well-known In-N-Out chain. Russell C. Wendell cleverly thought, if they can tempt the masses now driving in automobiles with burgers, why can't he do that with donuts. And he was right! Driver's mouths were watering for those glazed cake treats. While In-N-Out used a neon yellow arrow to attract drivers and customers, Wendell figured that sticking a giant donut on the building would get their attention and strip away any mystery of what they had to offer their guests.
Randy's Donuts is just one example of novelty architecture, a style that began to dot the California roadsides and freeways in the 1950s. Otherwise known as programmatic architecture or mimetic architecture, these novelty buildings meant to advertise or copy famous buildings, characters, animals, people, food, or household objects for the purposes of attracting consumers. All of this wacky architecture was meant to capture the attention of people whizzing by in their cars. Following WWII there was a flurry of economic activity, and automobiles, which were once high-luxury items, suddenly became accessible to the average person. In order to stop all of the citizens who were now driving along the roads and highways, roadside curiosities and attractions were built to spur consumerism. What better way to advertise a cup of joe by using mimetic architecture and designing your coffee shop as an actual pot of coffee, or a donut shop with a 32 foot gunite donut.
THE FAMOUS DONUT
With Randy's Donuts being in such close proximity to Los Angeles, the city of motion pictures and movie stars, it seems only fair that the giant donut would appear on film. The donut can be seen in movies such as Iron Man 2, music videos such as Justin Timberlake's "Can't Stop the Feeling", and television shows like Arrested Development. Randy's Donuts is even known to be the only donut shop that has had a space shuttle pass by its doors. In 2012, the historic space shuttle was ferried past the shop to its final residence at the California Science Center in Exposition Park, drawing in huge crowds to get photos of this incredible moment. Due to this significance in pop culture, this giant donut is iconic and most likely the most famous donut in the world.
Randy's giant donut might just be a bunch of steel rods rolled together and covered in a cement-like paste, but it is a landmark destination that represents California's post war optimism with its novelty architecture. It continues to endure, bringing joy to its community and tempting them from miles away with a delicious cake treat.
"Come for the selfies, and stay for the best donuts you will ever sink your teeth into."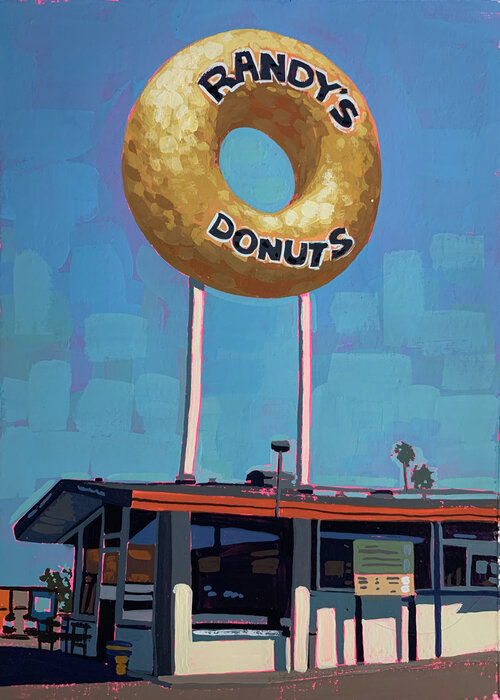 Illustration by Jamie Tablason